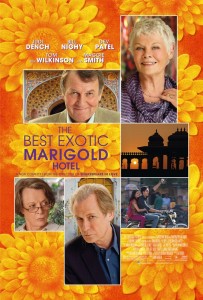 On Monday, April 23rd, New York City will host a glittering red carpet premiere of The Best Exotic Marigold Hotel and guess what New York readers you can win two passes to be there! The Best Exotic Marigold Hotel, which garnered rave reviews and huge box-office when it opened in the UK last month, stars some of the finest British actors ever including Judi Dench, Bill Nighy, Penelope Wilton, Celia Imrie, Ronald Pickup, Tom Wilkinson and Maggie Smith. Just whoa na? The film, which was directed by John Madden (Shakespeare in Love) also stars the wonderful Dev Patel and introduces Tena Desae!
The Best Exotic Marigold Hotel follows a group of British retirees who decide to "outsource" their retirement to less expensive and seemingly exotic India. Enticed by advertisements for the newly restored Marigold Hotel and bolstered with visions of a life of leisure, they arrive to find the palace a shell of its former self. Though the new environment is less luxurious than imagined, they are forever transformed by their shared experiences, discovering that life and love can begin again when you let go of the past.
So if you are in New York and want to be part of this fabulous premiere that will see Dame Judi Dench, Tom Wilkinson, Dev Patel, Tena Desae, John Madden (director), Ol Parker (screenwriter), Graham Broadbent (producer), walking the red carpet you just need to answer this question and email your name, address and answer by tonight to editors@bollyspice.com.
Name one of the stars of the film.
Good luck and see you on the red carpet!
httpvh://youtu.be/JZwXZte_ctk