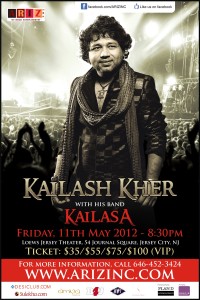 After his tour in the UK, Kailash Kher's next stop is the US as he brings Contemporary Indian Music to New Jersey. ARIZ Inc. presents internationally acclaimed artist Kailash Kher, with his band Kailasa, in New Jersey on May 11th. Kailash will be performing from his fourth and highly anticipated studio album Rangeele which debuted in January 2012.
Kailash rose to fame with his song 'Allah Ke Bandey' for the critically acclaimed movie Waisa Bhi Hota Hai. He's often coined as India's answer to the late Sufi maestro Ustad Nusrat Fateh Ali Khan. He is praised for his talents as a lyricist and his ability for beautifully combining traditional and modern music. Some of Kailash's most famous songs are 'Chak De Phattey', 'Arziyan', 'Bhangra Pauna' and 'Ya Rabba' and his acoustic version of the super hit 'Tu Jaane Na' from Ajab Prem Ki Gajab Kahani.
Kailasa is one on India's leading young contemporary fusion bands, which was formed in 2004, with Kailash and his brothers Paresh and Naresh. Their first album contained popular songs such as Teri Deewani, Dilruba and Tauba Tauba. Kailasa has released 2 additional albums thereafter, which have also topped the music charts.
Talking about his music to BollySpice, Mr. Kher told us, "I would describe it as very, very soulful music, which is not bound to be in any particular genre, because any genre would make it limited. Now definitely since we are performing for every diverse audiences and every diverse venues over the entire globe, our music should not be fixed in any particular style or any genre. I would say we produce soulful music, which connects soul to soul. It comes from our soul to you and you may be German, you may be French, you may be Hispanic, but you will connect with our music because music speaks the language of love. It's not about what syllable you are using, but it's the combination of syllables, as well as the sound and if it is sung in the right spirit then it connects irrespective of what language you are singing."
Kailash is currently touring the UK and US, and will be in New Jersey for only one night. ARIZ Inc. will be presenting Kailash Kher on Friday, May 11th, 2012 at the Lowes Jersey Theatre in New Jersey at 8:30 pm. Tickets range from $35-$100 and can be purchased at www.arizinc.com.