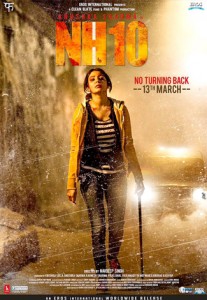 Hitting theaters on Friday, the 13th of March, NH10 starring Anushka Sharma, Neil Bhoopalam and Darshan Kumaar is a new age, gritty film directed by Navdeep Singh.
NH10 is the story of a young, upper middle class couple, Meera and Arjun, driving to a well-earned weekend getaway. Somewhere on the road, they step in to help what seems like a usual village skirmish. What happens next and what they do makes up the tale of NH10.
A thriller at heart, it's essentially a story of survival and courage – of how a woman stacked against all odds manages to not just stick it out but indeed, Give It Back!
After reading that synopsis and seeing the trailer and the character that Anushka Sharma plays in NH10, I really had no idea what to expect from the music of the film. I imagined that it would be background music to support and set the mood of the film's scenes rather than specific songs, as is traditional in Hindi films. So was I surprised and did I get into the groove of the flavor of NH10's music? Read on to find out!
We begin with the killer Chhil Gaye Naina composed by Sanjeev Darshan. Featuring the sultry, strong vocals of Kanika Kapoor, who is on a roll with great tracks, she makes the song with her powerful performance! She is joined by Dipanshu Pandit who adds another excellent element to the track. 'Chhil Gaye Naina' has almost a trance vibe to it, but with a wicked rock base fused with an Indian beat and feel, and even a bit of orchestra thrown in. The hook of 'Chhil Gaye Naina' is fabulous and really gets you into the groove of the grungy rockin' beat. Give it a play, Kanika and the music totally well… rocks!
Bann Chakraborty gives us three versions of Le Chal Mujhe with three of the best, Mohit Chauhan, Shilpa Rao and Arijit Singh each bringing their own style and flavour to the song. Let's take a listen to each one.
Beginning with the thumping piano line, this version with Mohit Chauhan is great. His vocals are full of everything the song needs, the longing, the strength and the perfect notes. The backing music has a rock jazz instrumentation, which is very cool. However, as the song develops there is a lot to the music in some sections, which makes it a bit confusing. Maybe a few less extraneous instruments and slightly toned down it would play better. But it is Chauhan's vocal that makes you want to hear it again!
If I thought 'Le Chal Mujhe' was great with Chauhan's vocals, Shilpa Rao makes it even better. Full of soul, feeling and impeccable inflection her vocal brings you into the song and it is brilliant. The music is toned down a bit, which supports her vocal line instead of fighting it. There is still the harder wail of the guitar, which adds some depth. The middle instrumental section still goes off track a bit musically but it does not seem to matter as much. With more of a jazzy bluesy vibe, this version with her perfect vocal is definitely one to check and then put on a playlist of killer vocals! Brava Shilpa Rao Brava!
Then we come to the reprise version, which again begins the same as the other two musically, but this time features Arijit Singh. He adds another wicked flavour with his rendition that features some really cool jazzy runs. With the longing and emotion filled tone he gives this one is too good too. This version has a softer flow musically. It also leaves out the instrumental change up and the music has a bit more of the jazz feel especially with the piano lines. Listen purely for Arijit Singh's performance.
Main Jo, composed by Ayush Shretha and Savera Mehta, begins as a very perky song with a fun, funky feel. The singers match the tone and elevate the track with Nayantara Bhatkal's sweet toned vocals, which are so good, bringing another sparkly layer to the feel of the song. The trumpet stanza was a bit out of place but that is nitpicky. The song does have a surprising darker moment with the cool voice of Savera Mehta. His voice is so good it really brings something to a song that might otherwise be too peppy. 'Main Jo' is a song that makes you wonder what this music will be backing up onscreen. I would wait until then to see!
With a jazz jam as a basis and with a great piano riff that continues throughout the song, Khoney De, composed by Bann Chakraborty, starts off strong and you think ooh cool another new groove. As the song continues however, too many styles and layers are mixed in and the music seems to go off in some strange tangents that are all too much. However, on the plus side the singers certainly hit all the right notes. Mohit Chauhan does what he does best and sings with passion and power and shines even though it seems he is fighting against the music. Neeti Mohan adds a lovely component to the song. The final bad note that ruins the song is that discordant wailing (in a bad way) chorus. It made me want to turn it off and quickly. If that had been left out I would've recommended this song for you to hear something new but that just made it a song to completely skip.
There is also an Instrumental version, which in the beginning you feel as if you are in a smoky jazz bar listening to some great music. A wailing (in the best way) trumpet line is added in which is perfect. I was so enjoying getting lost in the jazz ambience but then was jarred out of it by that cacophonous chorus. If you can get past that then this is a great jazz jam so give it a try!
With a driving bass, Maati Ka Palang, composed and sung by Samira Koppikar, begins and I like it. The track once again brings a new alternative tinge to Hindi film music. At first you are not sure of Samira but then her voice soars especially in the 'Maati Ka Palang' refrain. With influences of hard rock and the layers of traditional instruments it has the feel and vibe that the musicians are just jamming together and that is a very good thing. With the very moody music this one I think will play really well within the film.
Kya Karein is sung with a whispery tone full of emotion, and singer Rachel Varghese is brilliant at making you feel every single note. What starts off with just her textured vocal asking 'What to do?' and a lovely piano line transforms into an orchestral section that moves you. This is definitely a "what the heck is going on in the movie?" song but also a song to get lost in. Brilliant in every stanza I applaud Savera Mehta and Ayush Shrestha and especially Rachel Varghese and her perfect notes.
Using rock, blues, jazz, alternative, Indian flavors and instruments and even a mix of them all, NH10 certainly is not your average OST. Every track has a something cool and brings a new indie vibe to Hindi film music. Even with the few things I criticized (oh that wailing chorus!) I still enjoyed every song, especially every single singer, they were outstanding. Since knowing the story of NH10, I can't imagine they are going to break into song (not that there is anything wrong with that), so I can't wait to see how these tracks play within the world of the film. In the end, this definitely is a OST to give a spin and see if this is your groove, it was mine!