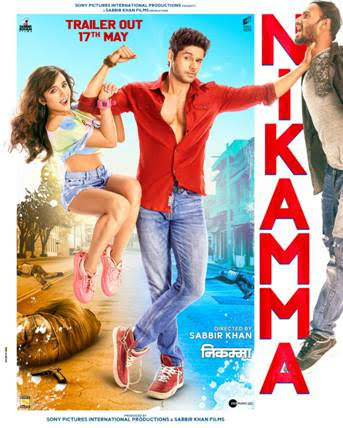 Nikamma
Starring Shilpa Shetty, Abhimanyu Dasani, Abhimanyu Singh
Directed by Sabbir Khan
No, this is not a film about a guy name Nik and his amma. Nikamma , as Tusshar Kapoor taught us in a song many years go, means a wastrel, a good-for-nothing, a lukha, a bekar berozgaar bematlab insaan…
And if you think Abhimanyu Dasani is the Nikaamma of the title then, ha ha, they fooled you. No, dear potential audience, the nikamma in the title is us, the spectators sitting in the theatre watching this garbage masquerading as a movie experience.
One has to be a full-fledged nikamma to inflict this suffering on oneself.
Or maybe some filmmakers think we Indian are suckers for masochism. So bring it on, baby. This is the story of Adi and Avni, Devar and Bhabhi who love to hate each other until poor Sachin Khedekar(playing Adi's chirpy Chachaji) reveals the big secret: Bhabhi Avni, played by Shilpa Shetty, (who let me tell you, gives off no Bhabhi vibes) actually dotes on her devar Adi and she and her husband(Samir Soni,playing the decorative husband , a role he seems born to play) decided not to have children, for Adi's sake.
Much 'Adi' about nothing follows. The second-half has Adi protecting his Bhabhi(a better title Adi Bhabhi Poori Bakwas) from the evil eyed hyena-laughter challenged Abhimanyu Singh who behaves as if he owns the town where Avni is posted (besides being the hottest Bhabhi in the vicinity she also moonlights as a bureaucrat).
Hyena-in-human-form runs a taxi service called Super. Anyone in the town who uses any other means of commuting is instantly eliminated. Sooopaar!
The villain would have been super-creepy if only he were not as ridiculous as the rest of the film. While Bhabhi and Devar behave as if they had just seen Raakhee Gulzar and Rajesh Khanna in Anil Ganguly's Aanchal, the town's resident bimbo Natasha (sad newcomer Shirley Shetia) walks up to a stranger at the bus stop and proposes to him
A walking talking singing illustration the MenToo movement, Natasha has decided she will marry Adi, who has decided he will save his Bhabhi from the goons. But who will save this mothballed film from disaster?