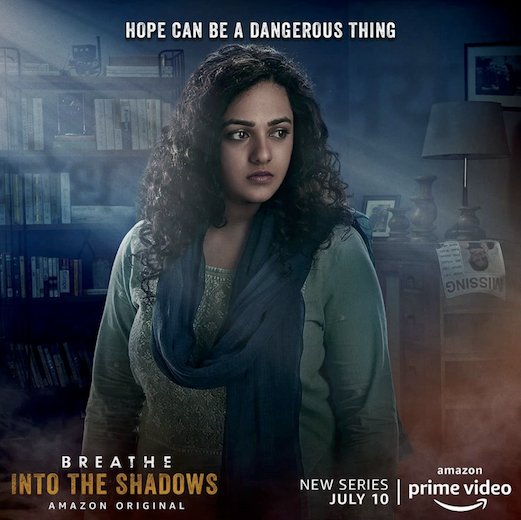 With Breathe: Into The Shadows, which released today, sees Nithya Menen make her digital debut in Amazon Prime Video original series. The psychological crime thriller also stars Abhishek Bachchan, who is also making his big digital debut. The series also features actress Saiyami Kher, and Amit Sadh who is returning for the second series.
Breathe tells the story of a 6-year old girl that is kidnapped by a mysterious masked man, who demands an unusual ransom. To save his daughter, Dr. Avinash Sabharwal must kill someone! Meanwhile, Kabir Sawant continues his pursuit for justice in the hostile environment of the Delhi Crime branch. A chaotic world of lies, deceit and mind games opens when Kabir is given charge of the investigation of the murders committed by Avinash. How far will Avinash go to find his missing daughter?
About working on a digital series, the actress has said, "For me, I was excited at the prospect of being able to do what I have always wanted to do as an actor. Be in a space where content is open and free. So as an actor, I suddenly felt really hopeful when this OTT stuff started coming. I was like, 'Oh there you go. That's my space! That's where I would thrive."
The actress also spoke about working alongside Abhishek Bachchan, revealing, "Abhishek and me, that's an unusual pairing. But Mayank (director) said, 'I always knew you and Abhishek would look fantastic together. Even the difference in you will look fabulous.' And we felt it as well. Actually, there is some kind of chemistry that works. Our characters look nice together. They look like they belong together. These things are not something you plan; they just happen".
Nithya Menen and Abhishek Bachchan will be seen playing a married couple that does all that they can to bring back their kidnapped daughter Siya. Directed by Mayank Sharma, the series is created and produced by Abundantia Entertainment.
Breathe Into The Shadows is available to watch exclusively on Amazon Prime Video today. The series will be available in 200 countries and territories worldwide.
ICYMI