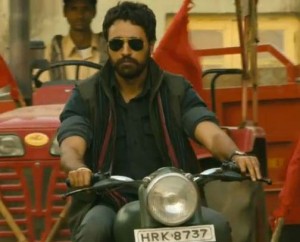 Coming up on January 11th is the highly anticipated Matru Ki Bijlee Ka Mandola. Directed by the fabulous Vishal Bhardwaj, the dark comedy stars Imran Khan and Anushka Sharma. Set in the rustic surroundings of a village in Haryana, Matru ki Bijlee ka Mandola is a comedy-drama about Harry Mandola (Pankaj Kapur), a wealthy industrialist who loves his drink, his daughter Bijlee (Anushka Sharma) and the unusual bond they both share with Harry's man friday, Matru (Imran Khan). Much to her father's delight, Bijlee is all set to marry Baadal (Arya Babbar), the son of a powerful politician Chaudhari Devi (Shabana Azmi). This alliance which is far from just being a simple union of two young people becomes the seed for a story that brings twists and turns in the lives of Matru, Bijlee and Mandola…
Both actors have said that Bhradwaj challenged them with these roles because they were characters they had never attempted or played before. Adding that Bhardwaj completely trusted them and with that trust they wanted to do their absolute best and in the end became Matru and Bijlee. Of the two, Imran had the biggest challenge. Not only did he have to change his look, he had to change the way he moved plus he had to learn a new language to play a Haryanvi from rural India. According to the director Imran took up the challenge and then succeeded brilliantly.
As to why he chose Imran to play the character, the director said, "I love playing with actors' images. And secondly, I saw potential in Imran after Delhi Belly. We were both scared when I narrated the script. He asked me if I was sure about casting him. I said if I can direct a film without any training, then anybody can do anything. I have learnt everything on the job."
Adding, "I loved his honesty. Only when you know your weaknesses can you work on them. He's earnest and wants to prove himself."
As he said he loves playing with actor's images and making his actor's into something new. For example, Saif Ali Khan's incredible transformation to Langda Tyagi in Omkara or Shahid Kapoor's double role in Kaminey. However, he says he enjoyed working with Imran the most. "I have worked with many actors – Ajay (Devgn), Saif (Ali Khan) and Shahid (Kapoor) – but I had the best time with Imran. He didn't come with preconceived notions, and he left everything to me. I could mould him the way I wanted. It's the best thing an actor can do."
Bhardwaj thinks that Imran's performance in the film will take him into another level and change everyone's concept of him as a chocolate boy hero. "I hope Matru takes him into a different league. People used to tell me that I had made a mistake by casting Imran, but he has proved everyone wrong. He has not only spoken like a true Haryanvi, but adapted the body language as well."
Adding, "None of the others could have played Matru better than Imran."
Stay tuned we have an in-dept interview coming up with Imran as well as Anushka!