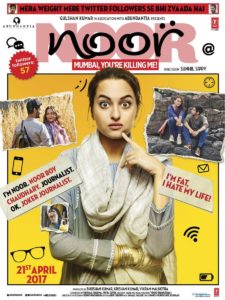 Noor
Starring Sonakshi Sinha, Purab Kohli, Kannan Gill, M K Raina, Smita Tambe
Directed by Suhnil Sippy
Honestly, the conscience has become a huge liability in these times. As a journalist with a good three decades of experience I still have problem deciding where to draw the line between professionalism and ethics.
Though I couldn't relate to her endless boozing and snoozing, Noor Roy Choudhary as played by Sonakshi Sinha , is someone I've known in passing.And that's I would keep her if I met her. At a safe distance.
Noor is not one of the best films on journalistic ethics. It doesn't do to the contemporary Mumbai media world what the Paul Newman-Sally Field starrer Absence Of Malice did 30 years ago. It pricks at the conscience in a rather undemanding way. Noor takes sly and slender satirical swipes at sensationalism in journalism, more delectable for its many jibes than the actual prick at the conscience.
The prick, when it comes, is not as solidly impact-filled as it should be. But by then, Noor has established her credentials for being an aimless adrift television journalist looking for a sense of purpose. That 'purpose' kind of falls into her lap with a gentle thud. Of course Noor messes it up. This is her prized USP, the ability to be absolutely and candidly self-serving without being apologetic about it. She messes up and moves on.
Director Suhnil Sippy whose last feature film, the snappy and slick Snip came 17 years ago, doesn't skip a beat. He allows his vision to meander with Noor's sense of aimlessness, trailing her through endless drinking binges and a never-ending quota of bacchanalia with her two friends Saad (Kannan Gill) and Zara (Shibani Dandekar).
While Kannan Gill definitely needs elocution classes, Dandekar is delightfully saucy specially in the scene where she walks into a bar to slap a man who has betrayed her best friend. I wanted to see more of her. More of Noor's editor's no-nonsense socialite wife played by Suchitra Pillai. And yes, more of Noor's boss played by the ever-excellent Manish Choudhary. The last time I saw a female journalist share such tactile vibes with her boss it was in Rajkumar Gupta's No One Killed Jessica.
Sonakshi Sinha gamely plunges into the mediaperson's home-'groan' zone, mining into Noor's insecurities and inadequacies to come up with a character who is as real as any neo-realistic urban character, like, say Alia Bhatt in Gauri Shinde's Dear Zindagi. Like Alia, Sonakshi is not afraid to address her character's uncertainties about her body and sexual activities (in one snatch of a voiceover she tells us that Noor's bottom is so ample that the postal department is contemplating assigning it a pin code, heehee).
This is a coming-of-age yarn that joyfully gets into the head and bed of its heroine, deconstructs the hoary Hindi Film Heroine, highlighting her appetites, culinary or otherwise, in ways that were considered inappropriate until a decade ago. Whatever Noor does, she does with an unabashed ebullience where she can and often does, trip and fall on her nose.
And when Noor falls in love she really FALLS. The segment showing her growing attraction to a rakish photojournalist (played with splendid suaveness by Purab Kohli) is brief and brilliant. The fit of heated passion subsides quickly. This is one of the film's prominent attributes. It rakes up issues and then quickly moves to something else. Perhaps this mood swing in the narrative replicates the film's protagonist's restless energy which is killing her professional skills while destroying her personal relationships.
Sonakshi Sinha kills it, even as her character claims Mumbai is killing her. Her monologue on the smog, smut, corruption and heartbreak of Mumbai is indeed a highlight. Sonakshi throws in her weight with her character's fight to float above the metropolis' rising sewage level of moral turpitude.
The flow of conversational energy is the key to the narrative's efficacy. Ishita Moitra's dialogues add ample zest warmth and humour to Saba Imtiaz's skimpy novel about the socio-political awakening of an aimless reporter. In director Sunhil Sippy's hands Noor is a lot more. It's about the media and sensationalism, the city and the singelgirl. It's about Noor and her friends and her father (played by veteran M K Raina, delightful) and her cat, and her conscience. Sunhil Sippy packs it all in, leaving enough breathing space for the characters to acquire a life of their own.