Do you want to own a full size poster of one of the hottest jodis around in their new film? If you live in the US or Canada you have the cool opportunity to win a poster of Bang Bang featuring Hrithik Roshan and Katrina Kaif!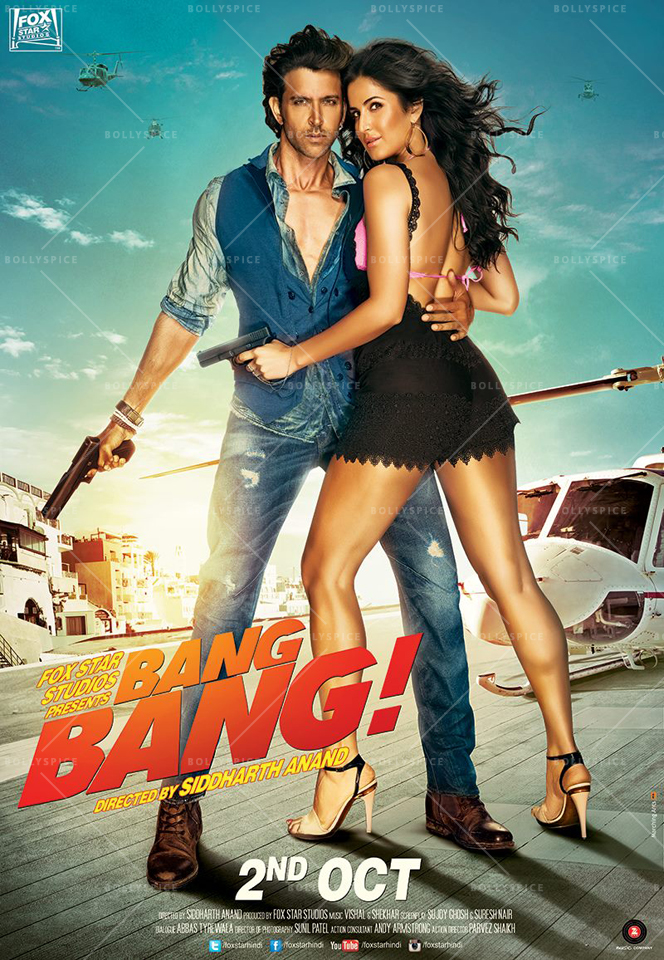 The globe-trotting adventure is hitting theaters across North America on October 2nd and to celebrate that we have holding a special contest!
Just simply answer this question:
Who stars in Bang Bang?
Email your answer along with your name and especially your address to editors@bollyspice.com. Open to readers in the US and Canada.
Bang Bang is the story of a chance encounter of the unassuming bank receptionist Harleen Sahni (Katrina Kaif) with the charming yet mysterious Rajveer Nanda (Hrithik Roshan), that results in an on-rush of ditched planes, car chases, shoot-outs, bombing raids and general global mayhem. But as the transcontinental chase ensues with Rajveer convincing Harleen that he's the good guy, can she really trust him, and will trust matter when the bullets start flying? Fox Star Studios and Director Siddharth Anand promise edge of the seat excitement and adrenaline-pumping action as the duo fight against all odds. Expect explosions, trigger happy assassins and pandemonium that can only aptly be termed as Bang Bang!