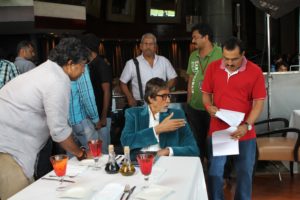 Ajit Sinha is all set for the release of his upcoming debut direction Wah Taj. The director has touched a very sensitive topic and is hoping to spread out a social message much of which will only be revealed on the day of the release. What we do know about this movie is that it's different, it involves the Taj Mahal, it is creating a lot of buzz amongst the audience and that it has Amitabh Bachchan's voice over.
Ajit Sinha in a candid interview told us about his movie and how blessed he feels to have worked with Amitabh Bachchan in his debut project. He also recalls the first time he ever worked with the legendary actor. "I still remember, it was year 1998 when Mr. Bachchan was making a comeback with a movie being directed by Indra Kumar. The star-cast was Aamir Khan, Madhuri Dixit and Amitabh Bachchan. Since I was the Associate of Indra Kumar, I had the chance to interact with Mr. Bachchan. We did the muhurat of the film with a song. It was during this time that we interacted a lot." Recalls Ajit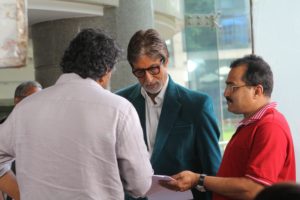 In the year 2012, Ajit met with Amitabh Bachchan again at a shoot wherein he took the opportunity to read out the script of Wah Taj to him. The storyline and the message the movie is driven around impressed Big B so much that he instantly agreed to lend his voice and be associated with the film. For Ajit it was a dream come true!
Ajit expressed," I got a chance to work with legendary Amitabh Bachchan in my debut film and it was an experience of a lifetime. It was the most enriching and enlightening experience of my life. I could not have asked for anything else. This will go with me as the megastar Amitabh Bachchan did voice over for my debut film and I shall remain highly obliged for his kindness and his thoughtful gesture."
We can't wait to see what this amazing duo has in store for us under the title Wah Taj!
Wah Taj starring Shreyas Talpade and Manjari Fadnis is presented by Jayantilal Gada (Pen) of Pen India Ltd and Directed by Ajit Sinha. The film is produced by Pawan Sharma (Pun films Pvt. Ltd.) , Abhinav Verma (Spyderwave films) and Dhaval Jayantilal Gada (Pen India Ltd.) and co- produced by Gopal Sharma, Naresh Sharma, Amitesh Kumar, Poonam Raikwar, Ravindra Choudhary, Aksshay Jayantilal Gada, Kushal Kantilal Gada & Reshmaa Kadakia. The movie is slated to release on September 23rd, 2016.