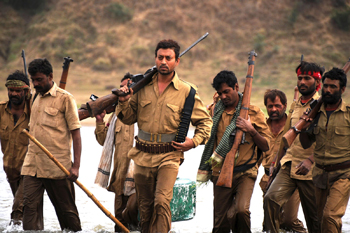 Normally we have movies made from books. But in the case of Paan Singh Tomar, a book is being released covering his life and times after a movie on him received critical acclaim.
Paan Singh Tomar's real and reel life story both had a tumultuous journey. While the man – an Indian athlete (represented India at the 1958 Asian Games in Tokyo, Japan) and an army man turned dacoit, the film had its own journey of lying in the cans for over a year before it saw the light of the day.
However, when it released, the critics and the audience lapped it up and the Irrfan Khan starrer – Tigmanshu Dhulia directed film has already become a favourite at the film awards bagging most big awards for actor, screenplay and direction.
Hence it is interesting that almost a year after the film's release the makers have decided to make a coffee table book on the journey of making this film and expectedly so Irrfan and Tigmanshu Dhulia are backing the project. The studio has roped in journalist turned author Priyanka Jain to write it. She has earlier co-written a book on Vinod Chopra along with 3 Idiots fame writer Abhijat Joshi.
Says Siddharth Roy Kapur, Managing Director, Studios, Disney UTV, "It is very important for filmmakers and studios to archive stories around iconic movies which have the ability to inspire future generations. As an industry we have not done enough so far to document our incredibly rich cinematic heritage, and this is a small step in that direction."
The book will give readers a good glimpse of the real and reel life of PST with some never seen before pictures depicting his life. Both, director Tigmanshu Dhulia and leading actor Irrfan are backing this project too.
Irrfan says, "Thousands of stories live and die every day in India, unnoticed. And these stories are complex, fascinating, moving, heart wrenching and engaging. I feel they should be brought to light in whatever form possible. The book will include all the other details which the film could not include. I feel the book will add to the experience of the film Paan Singh Tomar. It's a face of India which needs a look."