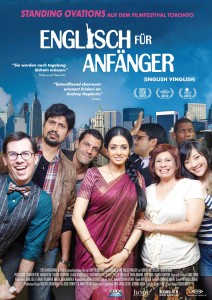 Eros International plc ("Eros"), will be releasing its highly acclaimed film, English Vinglish in Germany today. Eros will release the dubbed version of the film across an unprecedented 90 screens in mainstream cinemas.
Speaking on the release of the film in Germany, Pranab Kapadia, President – Marketing & Distribution, Eros International plc said, "English Vinglish is a global triumph and continues to entice audiences across the world since its release with its universal theme. With such fantastic response pouring in from every territory that we have released the film in, we are confident of opening up further new avenues for exhibition".
Director Gauri Shinde added, "I am extremely happy that EV is spreading across continents. My last visit to Berlin the response for the film was overwhelming during a festival and now I look forward eagerly to the countrywide response." 
After its successful release in India and overseas last year with critics and audiences across the world hailing it as a 'must watch' film, Eros continues to develop newer non-traditional markets for the Sridevi starrer. Recently, in March, English Vinglish enjoyed the biggest ever release for a Hindi film in Hong Kong across 7 screens and 29 shows daily with Cantonese and English subtitles.
Since its release, the film continues to win accolades and awards across all coveted festivals globally and award functions. Produced by Eros International in association with R. Balki, English Vinglish, the directorial debut of Gauri Shinde released worldwide on 5th October 2012. Hailed as Sridevi's comeback movie, English Vinglish is the story of a middle-class woman who is skilled at many things but not the English language and is often the butt of jokes not only within her family but also in the outside world. It is a feel-good slice of life film that takes us on a journey with Shashi Godbole played by Sridevi, who not only wins the heart of New York where the film is set but millions of people around the world.