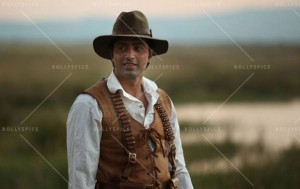 Winner of 10 Best Actor awards and counting, Indian superstar Dev has won both critical and commercial success in his career and now tackles his most ambitious film project yet with the Africa-set adventure Chander Pahar ("Mountain of the Moon") which opens this Friday, January 10, in US theaters with English subtitles.
The acclaimed actor recently sat down to discuss this challenging new role in this exclusive new interview.
Did you have a connection to this novel before taking on this film?
Chander Pahar is a book which almost all Bengalis grow up reading. I knew the story, and read it after I was offered the film. And when I read it I thought, 'Can this be made into a film? Is it even possible?' I had a whole lot of questions after reading the book a few times. I wanted to know how we would show Shankar with the lion… it should look credible. I knew we were getting into this really risky zone. I asked Kamal how are you going to show the period (1909)? I still read it in parts, just to be sure that I have enacted the scenes correctly.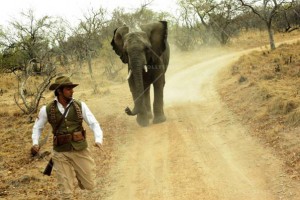 How was the experience of shooting in Africa and what were some of the highlights for you?
It gave me sleepless nights. I experienced raw fear while shooting many sequences. A Hollywood production would have done the film in the same way. The canvas of the film is so huge. We have done everything for this film. All the team members took great risks for Chander Pahar. Now when I see the scenes I am really amazed by them.
What kind of director is Kamaleswar Mukherjee and how did you both collaborate on the set?
I am really proud to be a part of this film. Kamaleswar is a genius. When I met Kamal, he was carrying a stack of 20 files with him. I asked him, 'Are you sure you see me as Shankar?' And he said, 'I won't be able to make the film if you don't agree to do it. The film needs you as much as you need it.' I asked 'why?'. He said that he was looking for a well-built person with an innocent face. He is such a perfectionist.
How did making this film differ from your past film experiences?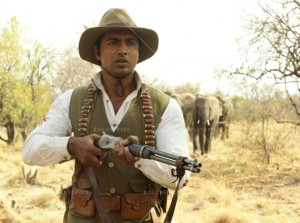 Every person dreams of doing something out of the comfort zone. I fought a lion, encountered a black mamba, a herd of elephants and got into life-threatening situations for the most important film of my seven-year career. But apart from all these, while being Shankar I overcame some of the biggest insecurities, phobias and personal restrains of my life. Being a part of this film is my biggest achievement!
Any messages for the U.S. fans?
Painting our thoughts on the words of Mr. Bibhutibhushan Bandyopadhyay has been a childhood Utopia for all us Bengalis. The effort that has been put to experience it on celluloid is magnum opus…keeping in mind only one thing – bringing back the good old days of our childhood from book to screen and overwhelm each one of us with heavy nostalgia. Watching a fave childhood novel on screen is sure going to be a treat not only for people staying abroad but also for those who are in love with Bengali literature! Releasing it in US is another milestone for Bengali Cinema done with one sole objective – to let you people feel home away from home! Watch Chander Pahar and relive the adventure Utopia!