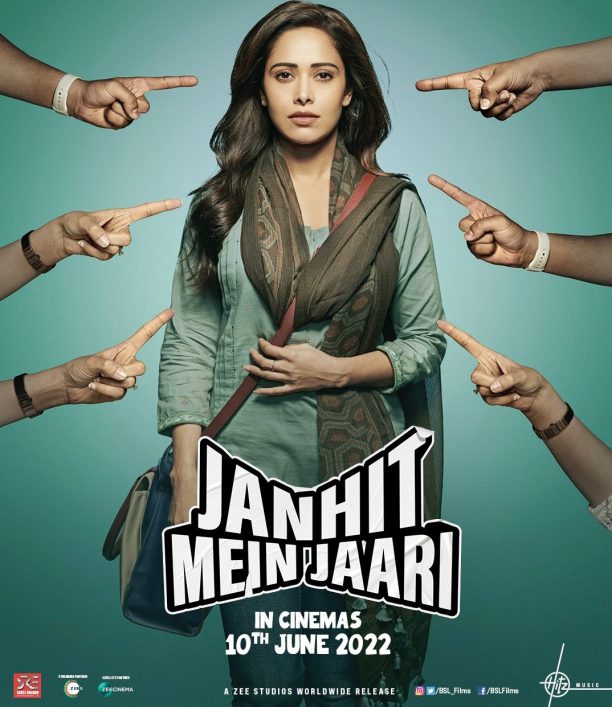 Janhit Mein Jaari
Starring Nushrratt Bharuccha, Anud Singh Dhaka, Vijay Raaz
Directed by Jai Basantu Singh
Raaz ki baat bataaon…Vijay Raaz seems to have stepped into the role of the rigid ultra-conservative patriarch in a small town that Ashutosh Rana would ideally play. Raaz being Raaz manages to make the role interesting although it seems to belong to someone else.
When his screen-son Ranjan, played by the promising newcomer Anud Singh Dhaka, brings home a wife who is a condom salesperson, papa Raaz shows his displeasure. "Women in our family do not go out to work, and that too such dirty work."
Posh, coming from the head of a family where the men, including Ranjan seem to do nothing except pass comments over the world that passes them by over endless cups of tea prepared by the womenfolk who produce children or talk about producing them.
Janhit Mein Jaari, set in a condom wholesale outlet in a conservative town , has some brilliantly ironic plot points, like Manu's suitor (Paritosh Tripathi) who continues to be a devoted friend even when she marries someone else, or Manu sharing beer bouts with her husband Ranjan.
There is a wonderfully written sequence before their marriage when Manu suggests a quick tumble in the hay. Ranjan's coy but firm refusal is priceless. There is a good actor somewhere in Anud Singh Dhaka.
This film and its radical statement on why women need to make sure that their partners use condoms, belongs to Nushrratt Bharuccha. She is fiery , feisty and blissfully plastered when her in-laws are not watching. The character owes an allegiance to Kangana Ranaut's Tanu in Aanand Rai's films. But then all smalltown female firebrands are like that only.
While the film has its likeable moments , the unwanted episodes of useless raillery creep in maliciously to ruin the atmosphere. There is this lengthy supposedly comic sequence where Ranjan's brother rushes out to buy condoms and gives his grandfather(Tinu Anand) a condom to drink in place of antacid.Eeew.
Manu and Ranjan would have provided us with a lot more manoranjan without the humbug.