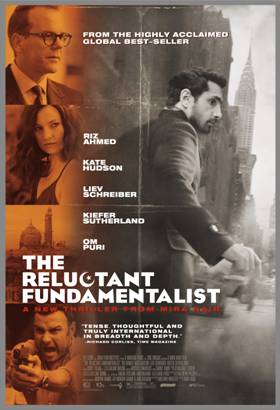 As we earlier told you Mira Nair's acclaimed new international thriller THE RELUCTANT FUNDAMENTALIST – based on the best-selling book by Mohsin Hamid – opens in theaters in NY and LA this Friday, April 26 and will then release on May 3 in most other major US cities. It opens later in May in India, Pakistan, Canada, and the U.K. Opening weekend theaters for the U.S. are below for this gripping new motion picture which boasts an all-star cast including Riz Ahmed, Kate Hudson, Kiefer Sutherland, Liev Schreiber, Om Puri, and Shabana Azmi.
What is cool is that movie fans in NYC will have the opportunity to meet the Oscar-nominated director in-person all this weekend long. The director will be at certain screenings in New York and will be there after the film for a Q and A session. You can catch her tomorrow, Friday April 26th at Lincoln Plaza after the 6:50 show. Saturday, the 27th you have two chances she will be attending the 4:05 and 7:00 showings at IFC Center. Sunday, the 28th the director will be available after the 1:30 showing at Lincoln Plaza and then after the 4:05 showing at IFC Center.
If you can't make it to one of those screenings, check here for a full list of showtimes
http://www.movietickets.com/movie_detail.asp?movie_id=140775
Be sure to go and see this fabulous film!
SYNOPSIS: We begin in 2011 in Lahore. At an outdoor café a Pakistani man named Changez (Riz Ahmed) tells Bobby (Liev Schreiber), an American journalist, about his experiences in the United States. Roll back ten years, and we find a younger Changez fresh from Princeton, seeking fortune and glory on Wall Street. The American Dream seems well within his grasp, complete with a smart and gorgeous artist girlfriend, Erica (Kate Hudson). But when the Twin Towers are attacked, a cultural divide slowly begins to crack open between Changez and Erica. Changez's dream soon begins to slip into nightmare: profiled, wrongfully arrested, strip-searched and interrogated, he is transformed from a well-educated, upwardly mobile businessman to a scapegoat and perceived enemy. With time, he begins to hear the call of his own homeland. Taking us through the culturally rich and beguiling worlds of New York, Lahore and Istanbul, The Reluctant Fundamentalist is a story about conflicting ideologies where perception and suspicion have the power to determine life or death.