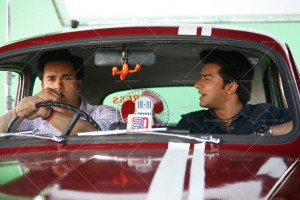 The trailer of the film, O Teri, presented by Salman Khan talks about two boys, Prantabh Pratap (PP) & Anand Ishvaram Devadutt Subramanium (AIDS, in short) who are ordinary journalists doing ordinary stories, facing ordinary pressures of life when a quirky turn of events changes their lives.
Both the boys are in search of a big scam to get attention at work and show their capabilities which they get and it is called the Asian Olympics.
Insiders are now drawing similarities with the Common Wealth Games (2010) and all the said scams revolving around the event. Another point of similarity is the bridge that is seen falling in the trailer. When contacted the director of the film, Umesh Bist said, "The entire film is inspired by real life events. However I would not like to reveal them now."
The film is slated to release on 28th March 2014.
Check out the trailer.