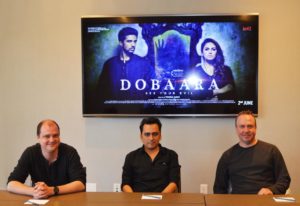 As a mark of respect for the original makers, the director of Dobaara, Prawaal Raman kept a screening for the director of Oculus – Mike Flanagan and its Producer – Trevor Macy. Mike Flanagan, one of the biggest names in the world of Horror genre today having directed films like Oculus, Hush, Ouija and Absentia and was keen to see how Prawaal's Indian interpretation 'Dobaara' had turned out. As it turned out, he was quite overwhelmed with the film and was all praise for Prawaal's treatment and the differences in creative choices made from Oculus to Dobaara. He felt that Prawaal has done complete justice to the original.
Mike said, "I just had a chance to see Dobaara and I thought it was fantastic! The cast is wonderful across the board. Prawaal did an amazing job in making this film. It's been a real honour to be able to see it. I Hope Prawaal gets to adapt all my films. He can have all of them!"
Trevor Macy, the producer of Oculus added, "I am thrilled to see the end result. Its real pleasure to see such great creative choices being made that enhanced it and made it accessible to a whole new audience."
They both paid special mention to the fact, that if this is the quality of production values, and lucidity, that Indian films are offering then it could open up whole new collaboration possibilities in India.
Going by the warm reception that the original makers of Oculus have given to Dobaara, the film is clearly a game changer for the horror genre in India and raises the bar for Indian spook films considerably, with its stellar content.
Adding to this, producer Ishan Saksena says, "I am thrilled to see the response to Dobaara. Our intention has been to tell a unique story with production values of global standards for our Indian audience and its satisfying to see the world acknowledging it! Prawaal has really done an excellent job."
Dobaara- See your Evil, written and directed by Prawaal Raman, starring Huma Qureshi, Saqib Salim, Adil Hussain, Lisa Ray, Madalina Bellariu Ion and Rhea Chakraborty. Dobaara- See your evil is slated to release on 2nd June, 2017.
Dobaara