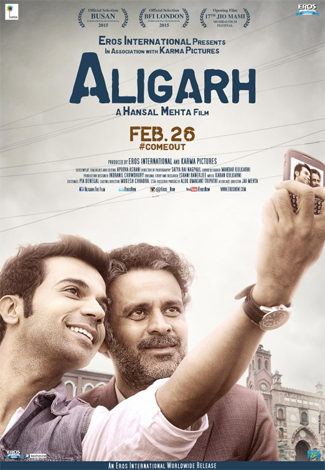 By Mahesh Bhatt
'Attention is the rarest and purest form of generosity', said the French philosopher, activist and mystic, Simone Weil.
I have always believed that stories have the power to awaken us to the truth. Works of writers, who write from their wounds, have the power to take us via their stories into the truths of other people, whose lives we are willfully blind to, because we are busy amusing ourselves with comfortable lies.
Director Hansal Mehta and writer Apurva Asrani do just that in their film Aligarh. They take us from our safe sanctuaries and our prisons, out of the same old Bollywood stories we have been telling ourselves, and pull us into the life of Dr. Srinavas Ramchandra Siras, a linguist and author in Aligarh University, who was humiliated and ousted from his position because of his sexual orientation.
This under-two hour biographical drama, made by brilliant technicians and actors Manoj Bajpayee and Rajkummar Rao, is not just a film about the rights of homosexuals. It is much more than that.
It is a passionate cry, bringing into focus every human beings right to be different from the herd, and to demand from the custodians of law our right to live our lives our way.
Homosexuality, which has been a part of human history for millennia, is controversial for all individuals, including homosexuals themselves, because it is not a dominant sexual orientation, and does not naturally lead to procreation. Whether individuals within a society agree with the practice of homosexuality or not; the central issue that Aligarh bravely spotlights is the right to freedom of choice within the confines of one's own personal space.
From the very first shot of Dr. Siras being driven home in a rickshaw on a wintery night, and the subsequent nightmare that unfolds thereafter, Hansal makes the viewer realize that the problem of this persecuted minority is a burning issue, simply because of one's own personal apathy. He makes us realize that we are individually, personally responsible for viewing homosexuality as something disgraceful, and have turned the other way when they are humiliated by society under our very noses.
As I sat watching this film, I couldn't help but marvel at how India of 2016 has drastically changed from the India of the last century. Here is a filmmaker and his team who have taken a clear position and are crusading to change the nations' belief towards sexuality.
I remember that in 1998, Dilip Kumar, Javed Akhtar, Vijay Tendulkar and myself filed a PIL in the Supreme Court, when the film FIRE was obstructed by the Shiv Sena. We had sought a directive to restore the rule of law and constitution, before the situation slipped into total anarchy.
During that due process a lot of gay rights groups suddenly appeared out of the woodwork and wanted to jump onto the Fire bandwagon, taking out candle light protests outside theatres. Their voices sought to be heard not just for the issue of freedom of speech in the virtual world but also in the real world. They attempted at that point to broaden the discourse. When they approached us to join them, Dilip Saab took a step back. He did not want us to crusade for gay rights, only for freedom of speech at that point.
When I look back at that moment now, I marvel at the quantum leap that Hansal, Manoj, Rajkummar and Apurva have taken. They have given us a moving document, which will make even the stone hearted, blinkered viewer feel the pain and loneliness of Dr. Siras, and perhaps make him feel that he too was responsible for the tragic hand that he was dealt.
If attention is indeed the rarest and purest form of generosity, then Aligarh is the most generous human document to have flowered in these mind-numbing times. Where most filmmakers are attempting to lull an audience into sleep, Aligarh, and the haunting face of Manoj Bajpayee, wakes you up, and jolts you out of your slumber.