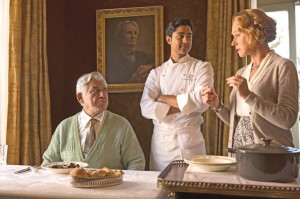 Om Puri (b. 1950), the prolific and internationally renowned Indian actor will appear at Museum of the Moving Image on Sunday, August 3, for a conversation about his career moderated by actress and writer Madhur Jaffrey. The tribute program, presented with clips of Puri's finest performances, will be followed by a preview screening of The Hundred-Hoot Journey, in which he co-stars with Helen Mirren.
Om Puri is one of India's most celebrated actors. He won his first Indian National Film Award for his performance in Ardh Satya. Since then, he has starred in both mainstream and arthouse Indian films including Ardh Satya (1982), Mirch Masala (1987), Dharavi (1992), Maachis (1996), and A.K. 47 (2004), as well as international projects such as the critically acclaimed Gandhi (1982), City of Joy (1992), Wolf (1994), Brothers in Trouble (1995), The Ghost and the Darkness (1996), East is East (1999), Charlie Wilson's War (2007), and West is West (2010). He recently starred in Don 2 (2011), Farhan Akhtar's record-breaking Bollywood epic. His latest film,The Hundred-Hoot Journey, is relasing in the US on August 8. Om Puri was awarded the Honorary Officer of the Order of the British Empire for services to The British Film Industry in 2004, as well as the Filmfare Lifetime Achievement Award in 2009.
Madhur Jaffrey is an award-winning actress, cookbook author, TV chef and illustrator. She was born in Delhi, India, and studied English literature at Delhi University. Her many films include Shakespearewallah, Autobiography of a Princess, Heat and Dust, Assam Garden, Cotton Mary, Six Degrees of Separation, Flawless, Chutney Popcorn, and Prime. She has appeared on TV series such as EastEnders, Peacock Spring, and Law and Order, and has performed on stage.
"The Hundred-Foot Journey is a warm, richly textured film, and a showcase for Om Puri, who has a memorable role opposite Helen Mirren," said David Schwartz, the Museum's Chief Curator. "The evening at the Museum is a great opportunity to pay tribute to one of the world's most beloved and admired screen actors."
In The Hundred-Foot Journey, an adaptation of the beloved book by Richard C. Morais and directed by Lasse Hallström, the opening of a new Indian restaurant in the south of France next to a famous Michelin-starred eatery is cause for an all-out war between the two establishments. As the patriarch of a family displaced from their native India, Om Puri gives one of his most memorable performances. (2014, 122 mins. DCP courtesy of Walt Disney Studios. With Helen Mirren, Om Puri, Manish Dayal, Charlotte Le Bon. Produced by Steven Spielberg, Oprah Winfrey, Juliet Blake.)
Tickets are $20 public / $12 Museum members and free for Silver Screen members and above. Advance tickets are available online or by phone at718 777 6800. For more information about becoming a Museum member, visit http://movingimage.us/support/membership.
Press contacts:
Christina Marouda, cmarouda@movingimage.us / 718 777 6844
Tomoko Kawamoto, tkawamoto@movingimage.us / 718 777 6830

MUSEUM INFORMATION:
Museum of the Moving Image (movingimage.us) advances the understanding, enjoyment, and appreciation of the art, history, technique, and technology of film, television, and digital media. In its expanded and renovated facilities—acclaimed for both its accessibility and bold design—the Museum presents exhibitions; screenings of significant works; discussion programs featuring actors, directors, craftspeople, and business leaders; and education programs which serve more than 50,000 students each year. The Museum also houses a significant collection of moving-image artifacts.
Hours: Wednesday–Thursday, 10:30 a.m. to 5:00 p.m. Friday, 10:30 to 8:00 p.m. Saturday–Sunday, 11:30 a.m. to 7:00 p.m.
Film Screenings: Friday evenings, Saturdays and Sundays, and as scheduled. Tickets for regular film screenings are included with paid Museum admission and free for members.
Museum Admission: $12.00 for adults; $9.00 for persons over 65 and for students with ID; $6.00 for children ages 3-12. Children under 3 and Museum members are admitted free. Admission to the galleries is free on Fridays, 4:00 to 8:00 p.m. Tickets for special screenings and events may be purchased in advance by phone at 718 777 6800 or online.
Location: 36-01 35 Avenue (at 37 Street) in Astoria.
Subway: M (weekdays only) or R to Steinway Street.  Q (weekdays only) or N to 36 Avenue.
Program Information: Telephone: 718 777 6888; Website: movingimage.us
Membership: http://movingimage.us/support/membership or 718 777 6877
The Museum is housed in a building owned by the City of New York and located on the campus of Kaufman Astoria Studios. Its operations are made possible in part by public funds provided through the New York City Department of Cultural Affairs, the New York City Economic Development Corporation, the New York State Council on the Arts, the National Endowment for the Arts, the National Endowment for the Humanities, the Institute of Museum and Library Services, and the Natural Heritage Trust (administered by the New York State Office of Parks, Recreation, and Historic Preservation). The Museum also receives generous support from numerous corporations, foundations, and individuals. For more information, please visit movingimage.us.