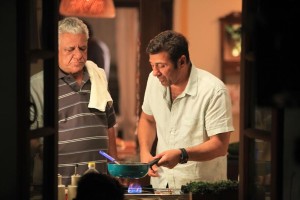 The veteran actor Om Puri who was an integral part of 1990's super hit film 'Ghayal' starring Sunny Deol, will also be part of its sequel 'Gayal Once Again'.
Recently the actor was spotted shooting for the film in Bandra along with Sunny Deol. A source close to the unit says,"Om Puri sir is playing a pivotal role in the film.  He has started shooting for the film already. Sunny and Om Puri were seen having intense discussion during the shoot. Om Puri Sir hasn't read the script and all he we reveal is that the police officer has retired now but still shares a warm relationship with Sunny's character".
Ghayal Once Again will be Directed and Produced by Sunny Deol under the banner Sunny Sounds Pvt Ltd.