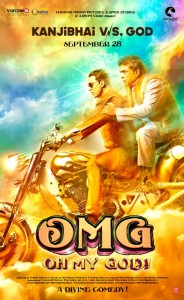 Paresh Rawal's standalone performance in OMG – Oh My God!, presented by Tip Top in association with Viacom 18, has received rave reviews the world over, with Box Office figures to match. The film and the comedy maestro's performance have delighted audiences as OMG heads healthily into its second week.
In its first week, the film has taken approx £230,000 in the UK; $450,000 in the US; and has broken previous records across Fiji/ New Zealand/ Australia, taking $300,000. In India, the film has taken approx Rs 30 Crores, while the film is growing in popularity by word of mouth, as Paresh Rawal continues to hold himself at the Box Office.
Among the wealth of positive reviews, respected film critic Taran Adarsh said, "OMG – OH MY GOD! carries a social message, a significant one, but the best part is, it does so without losing the wit and humor."
We loved the film here at Bollyspice giving it 3 stars saying, "Go Watch It!"
Supported by performances by Akshay Kumar, Sonakshi Sinha and Prabhu Deva, Paresh Rawal's 'Kanji Mehta' is an atheist who runs an antique shop. For him, God and religion are nothing more than a business proposition. He buys religious idols and sells them off as 'antiques' for double, triple and even ten times the original price.
Then one fine day, the tremor of an earthquake shakes the city but causes the destruction of only one shop – Kanji's. As they say, man proposes, God disposes, or in this case, insurance company disposes as it rejects his claim, citing the earthquake an 'Act of God'. Frustrated and left with no option, Kanji decides to file a case against God on the premise that if God is responsible for his loss, then it is God's responsibility to compensate him for his losses. What follows is a journey of epic proportions, self-realisation, legal masterstrokes and borderline insanity.
OMG – Oh My God is on release now, presented by Tip Top in association with Viacom 18.