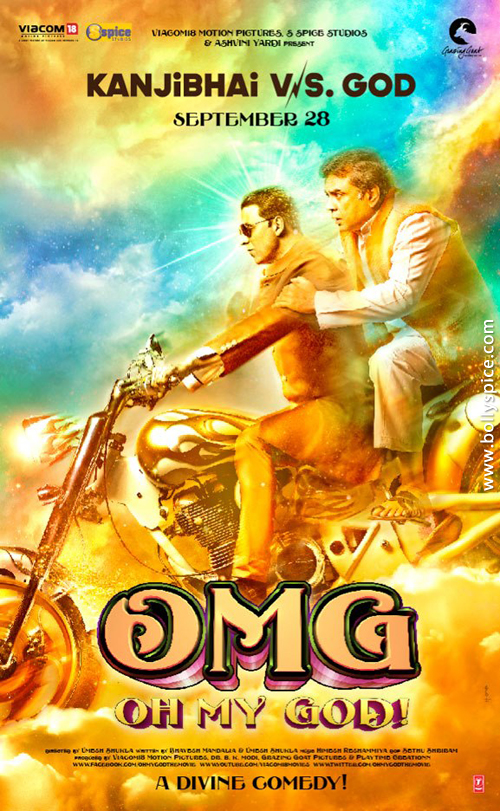 OMG Oh My God (2012) is the first film to release from the newly launched production house Grazing Goat Pictures which is co-owned by Akshay Kumar. The film stars Kumar along with Paresh Rawal and Mithun Chakraborty in the leading roles and is all set to release at a cinema near you on 28th September 2012. According to its trailer, the film deals with a shopkeeper (Rawal) who strongly disbelieves in God. Consequently Kumar (who plays God in this film) sets out to alter his ways and beliefs. The soundtrack to this film has been composed by Himesh Reshammiya, who has given us recent soundtracks such as Bol Bachchan (2012) and the colossal hit Bodyguard (2011). The lyrics are penned by Shabbir Ahmed, who has written songs for films such as Dangerous Ishhq (2012) and Luck (2009). So without further ado, let's take a look at what the soundtrack to OMG Oh My God has to offer.
The first song is Don't Worry (Hey Ram), a duet by Benny Dayal and Reshammiya. With elements taken from the song Dum Maaro Dum from Hare Rama Hare Krishna (1971), this is not really a captivating up-tempo track which will have a spellbinding effect on the listener. In terms of vocal and musical quality, it is not at the same level as Go Go Govinda, which I will go on to discuss in greater depth shortly. Therefore, it will not really tempt you to get up and groove to it. Due to the weakness of this number, this makes its Remix not that enthralling to listen to either. There is nothing distinctive about it and it follows the typical drum and bass method which we hear in all remixes. For that reason, the Remix of Don't Worry (Hey Ram) is more of a skip worthy track in my opinion compared to the original version.
The next track on the album is Mere Nishaan, sung by Kailash Kher. Although the song is powerfully performed by Kher and contains the use of classical instruments such as the Tabla and the Indian flute within a modern composition which uses violins, guitars and rock elements (which I loved), I feel that this is a track which will divide listeners. They will either love it or skip it! I am certain that hard-core fans of Kailash Kher will enjoy this song and appreciate his melodious voice and the musical arrangement. However, I think that it is a song which people are likely to forget after the film has released. Despite it being a decent track with meaningful lyrics by Ahmed, it does not contain enough spice for it to be a truly memorable one.
Tu Hi Tu is next, which is performed by Mohd. Irfan. Given that there are four versions in the album, as well as a short instrumental theme, it is likely that this song is an integral part of the film. A devotional song to the Hindu deity Krishna, it has a modern flavour with bass and the mild use of electric guitars which listeners, especially Hindu followers, will find catchy and enjoyable. Yet the lyrics stand out more than the music itself and for that reason; I personally find the Unplugged Version sung by Ash King to be more striking to listen to. It is an acoustic version with the strumming of a guitar and King's voice is definitely oozing with passion in this particular track.
The Reprise version of Tu Hi Tu sung by Suraj Jagan is also very well performed though a little less nonchalant compared to Irfan's version. Yet they are both equally good so hence, it is really up to the listener to decide which version they would prefer to listen to. The Remix to this song appears to have been composed for use in nightclubs due to its heavy bass and rhythm. This track was unnecessarily included in the album and should have been left out altogether. I find it to be dull and cringe worthy to listen to and it will have no real musical impact on the listener. There is also a brief instrumental theme of this song titled Oh My God Soundtrack. We will only know once the film is released, but if the song is in fact connected to the storyline, it may have been included for those who end up enjoying the film and want to listen to the theme.
Another instrumental is also included which is titled Krishna Theme (Flute). It is possible that this is part of the background music to the film. However, as a composition, it may be something which those interested in classical Indian music may enjoy during its short two minute run. However, this is only a bonus and is not meant to deter the listener away from the rest of the key tracks in the album.
The highlight of this soundtrack is definitely Go Go Govinda, performed by Shreya Ghoshal and Mika Singh. With samples taken from the song Govinda Aala Re Aala from the 1963 film Bluff Master, this song is most likely to be the one which will stay in your head for a while. Ghoshal provides us with vivacious vocals which will make you want to sing along with her. Sonakshi Sinha has brilliantly mimed to Ghoshal's parts in the music video and the choreography displayed also perfectly complements this song. Yet if it is one thing that I was expecting when I heard this track in full, it was more vocals from Singh. It is really Ghoshal who carries this song and without her, the song would not have garnered the attention which it has already done so far. It is apparent when listening to this track that it has been thoughtfully and energetically composed by Reshammiya and the trumpets and drums are no doubt difficult to erase from your head. The Reprise version with Ghoshal and Aman Trikha is also great, but if I was compelled to choose; Singh's voice is much sturdier and matches well with the music and lyrics used in the song. Overall, Go Go Govinda is a great contemporary attempt on a religiously themed tune and one which will unquestionably be popular amongst youngsters!
The final feature song is Hari Bol, which is sung by Kirti Sagathia. This is perhaps the weakest track in the album. There are too many instruments being used in this one song alone which includes drums, bass, trumpets, bells and more! With the vocals included also, this makes the song a little too overwhelming to listen to. A track which I think listeners should skip as it will fall into the back of your minds.
Overall, it is unlikely that the soundtrack to OMG Oh My God will be forever cherished in one's music collection. With the exception of Go Go Govinda, the rest of the tracks in the album cannot be labelled as Reshammiya's best works. He has composed far greater albums in the past which have left a more lasting impression on me and perhaps on other listeners too. In my view, the remixes should have been left out altogether as there is no spectacular appeal about them. Whether the film will be superior to its music will only be known once it officially releases on 28th September. I should stress however that Reshammiya has made a decent attempt with this album, but I feel that it had the potential to be a lot better. For that reason, the soundtrack to OMG Oh My God gets a 2 star rating!