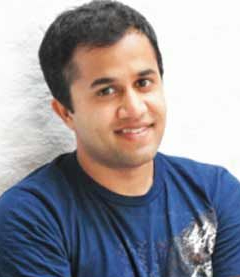 The dramedy Desi Boyz, directed by Rohit Dhawan and which stars Akshay Kumar, John Abraham, Chitrangada Singh and Deepika Padukone hit the cineplex last week. If you have seen the film, you probably noticed that there was some pretty cool special appearances. Not only did we see Anupam Kher pop into the frame but also Sanjay Dutt showed up in a very unexpected cameo. We also saw Omi Vaidya aka Chatur from 3 Idiots add his comic touch to the film. Omi's small but important role has been getting some great reviews. We caught up with the actor for a quick chat about his experiences with the Desi Boyz. Check out what he told us about working with John and Deepika, how his role became more and how much fun they had on set.
How did the role in Desi Boyz come about?
I had done 3 Idiots and I had just signed Dil Toh Bachcha Hai Ji and Players. My manager said Rohit Dhawan, David Dhawan's son was interested in me for a small part. Now, I don't mind new directors or anything like that, I really don't care. I just wanted to hear the role. People were saying that it's a small role you shouldn't really do it. I met Rohit and we realised that we had gone to NYU together. He told me about my role and I started getting excited because he had really thought about it. It was a well crafted few scenes. He said, 'I just want this to be a surprise. I don't want people to think that Omi is going to be in the film. I don't want you to tell anyone you are going to be in the film. It is going to be funny'. I knew it was going to be a lot of comedy so we really could play with that. We really synched. Rohit as a director is quite fresh and his sensibilities are new and with the young people so I definitely knew that I wanted to do the project immediately.
Tell us about your role.
I don't know if you've watched the film, but the first few scenes, which are in England, that at first was basically my role, just a blind date with Deepika and with John there. I was done and I continued on with Players. I guess Rohit just really loved what I had done. The scene had turned out really great. Rohit had a scene at the end of the film where there is sort of a court drama and he needed a really bad guy. I already had motive in the film to be a bad guy. Luckily we hadn't described what my job was so pulling me back in the film at the end there worked pretty well because I had already had the reason to be the nasty guy. It came out really well and people seemed to really enjoy it.
It's sort of a crazy, fun, you don't have to bring your brain to the movie movie. It's total entertainment kind of film, but you need a little bit of good comedy within that to really keep it going. Anupam Kher, me, Sanjay Dutt really had just little tiny parts but put together they really add to the 2nd part of the film and keep it going.
Tell us about working with Deepika and John.
It was great! John, I already knew from just hanging out. Plus both he and Deepika had come on my singing show so they were already familiar with me. Unlike many, many actors here, since I didn't grow up with these icons and the thoughts that Bollywood is one huge amazing thing I'm so lucky to be a part, I never really had any of that. These are just actors and I am just an actor. I'm comfortable and I'm confident in my acting skills and we are just here to do a job and have some fun. This scene has to have a lot of fun so we had a lot of fun. It was immediately comfortable because there was no airs and I wasn't trying to quote to them or you know praise them a lot or even feel uncomfortable and nervous around them. They're just like any other actors. I think I've just continued to feel that way regardless of being more part of this industry. It really doesn't matter who I work with, I'm here for the craft. I'm here for the roles and dialogues and the learning and that's what is the most important thing. They were so nice though; they were really wonderful and very, very chilled and fun.
Sounds like you really had a great time on this film.
Oh yes, totally. You can really tell in the film, I think. There is a blooper reel at the end of the film and you see how many takes we did to get our stuff right because everybody kept laughing. Deepika's laughing, John's laughing, I'm screwing up my lines so it's a lot of fun. We had a lot of fun.
We also chatted with Omi about Players but you have to wait and watch for that one! Desi Boyz is in theaters now!