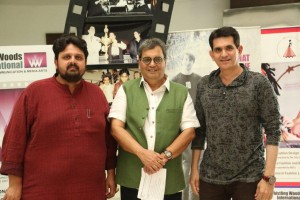 "He is crazy, he is extremely passionate, he draws and paints, builds sets for Sanjay Leela Bhansali, for Big Boss on TV, has designed Kingdom of Dreams and directed 'MARY KOM' and that artist is OMUNG KUMAR" said SubhashGhai, in auditorium filled with 400 students on the eve of 5th Veda promoting the Classical Art of painting and aesthetics in cinema at Whistling Woods campus.
National Award-winning filmmaker, Omung Kumar gave an insight on the subject of art of images, aesthetics and production work by saying, "Art is a skill which vibrates through human life and soul. Since you all are students of cinema, you should imbibe an aesthetic sense in you if you wish to be successful because an art director is extremely critical for any director as he decides the look of the entire movie."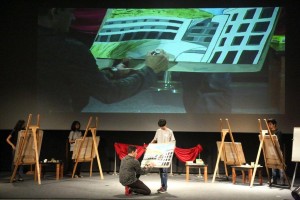 After showing an AV on evolution of Art from the stone age to contemporary visual arts to perfect picture cinema, which also depicted the paintings and painters of its times, Omung Kumar admitted that he has been heavily influenced by the old paintings like MONALISA and can't escape from their influences. He stunned the students when he showed his paintings and sketches with so much details and expressions of different settings.
Omung Kumar was surprised and thrilled when the students requested him to paint on the spot. He beautifully sketched a picture on the theme of 5thVeda showcasing roots with the classical art forms of cinema. He received a standing ovation by the students.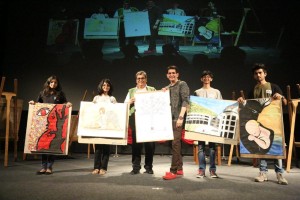 Mr. SubhashGhai, Founder of WWI and 5th VEDA said to students that he himself developed his aesthetic sense in visual arts by watching advertisements in magazines and street hoardings at various cities of the world since his childhood. But it was great learning and working with Omung Kumar in my last film 'Yuvvraaj' for which he received a letter from M. F. Husain appreciating the grand visuals of the film and music.
Omung said, "As they say God lies in the details, I believe visual sense was embedded in me since my inception as my mother was a painter.  Visual, photography, face, dialogues influences one person to buy the work. I dream fantasy. Painting is like an advertisement to me, it speaks in many ways and people will interpret it their own ways."  He turned the stage into a crucible for experimentation where some of the students joined him to get their hands dirty while spontaneously painting their thoughts on the canvas and later on signed their creations.