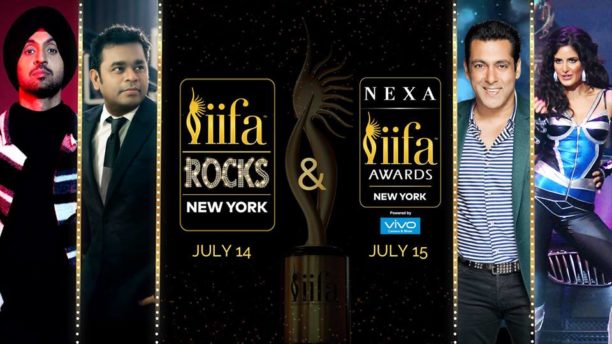 Get ready New York City because Bollywood is coming to town and they are ready to put on a performance like you have never seen!
IFA continues on its journey with strength to grow every year in the world of entertainment and building the outreach as a major event globally to bring positive results and impact. This year is set to be one of the biggest, most extravagant and amazing IIFA Weekends to date when it hit NYC July 14th to the 15th! The 2 day IIFA Festival New York will feature on Day 1 – IIFA Weekend Press Conference and IIFA Rocks Green Carpet & main event IIFA Rocks and then day 2 presents the much awaited IIFA Awards Green Carpet & IIFA Awards.
IIFA Rocks 2017 hosted the charismatic duo Riteish Deshmukh and Manish Paul is extra special this year because it will celebrate 25 years of A. R. Rahman in the industry and is set to feature a never-before-seen medley of musicians that includes A. R. Rahman, Diljit Dosanjh, Benny Dayal, Javed Ali, Neeti Mohan, Jonita Gandhi and Haricharan Seshadri
Then comes the main event the IIFA Awards! Hosting the NEXA IIFA Awards Powered by Vivo is the talented Karan Johar and Saif Ali Khan and the spectaculaur show features power-packed performances by Bollywood Megastars Salman Khan, Alia Bhatt, Katrina Kaif, Shahid Kapoor, Sushant Singh Rajput, Kriti Sanon among others.
Salman Khan: "It always feels great to be a part of the IIFA Movement and I look forward to the 2017 IIFA Awards."
Katrina Kaif says, "I'm really excited and looking forward to performing at the IIFA Awards this year. It is such a great platform that not only showcases the celebration of cinema globally but also it's a great opportunity for us to reach out to our fans worldwide. I am excited that this year, it is happening in one of my favorite cities – New York!"
Speaking about her debut performance at IIFA, Alia Bhatt shared, "I am very excited to be a part of IIFA 2017, as this is going to be my debut at the IIFA Awards after 5 years in the industry. I am super excited that IIFA is being held in the beautiful city of New York. IIFA is all about togetherness and the celebration of the Indian cinema globally and I eagerly look forward to this celebration".
ICYMI, you can be a part of the IIFA experience by voting on who takes home the coveted IIFA Award. To find out who is nominated check here and to cast your vote click here. Voting is open until June 18th so be sure to get your vote in now!
So get ready for the 18TH Edition Of IIFA because from what we hear it is all set to be the grandest celebration of Indian Film, Music, Fashion and Dance!