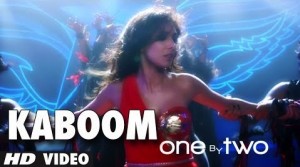 Preeti Desai portrays a rebel in One By Two starring opposite Abhay Deol. Now, she finally strikes out with the latest song from the movie called 'Kaboom'.
This song is picturized on Preeti Desai showcasing the side of her where she breaks free. The visuals are beautifully based against the backdrop of Mumbai's famous locations. With 'I'm Just Pakaoed' and 'Khushfehmiyan' the film's music already shows a lot of promise. With this latest track it just adds to what is already shaping up to be a great album.
Have a look yourself and enjoy her full of life attitude.