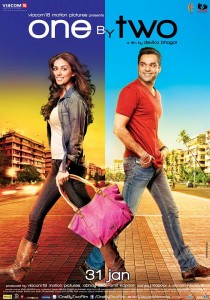 One By Two is an upcoming romantic comedy which stars Abhay Deol and Preeti Desai in the leading roles. Directed by Devika Bhagat, the film is scheduled for release on 31 January and promises to be a fun-filled film that will appeal to the masses. The music has been composed by Shankar-Ehsaan-Loy, who have given us amazing albums such as Dil Chatha Hai (2001), Kal Ho Naa Ho (2003) and Zindagi Na Milegi Dobara (2011). The lyrics have been penned by Amitabh Bhattacharya, who has written songs for popular films like Chennai Express (2013) and Yeh Jawaani Hai Deewani (2013). So is it worth listening to the soundtrack to One By Two? Check out our review to see our verdict!
First up is I'm Just Pakaoed, sung by Siddharth Mahadevan. The song is formed using heavy metal music, which did not work for me personally. Though I appreciate SEL's attempt to be experimental, I just found this one to be a little too wacky for my liking. Hence, give this one a miss since it does not have a strong catch to it.
Next is Kaboom, which has Anushka Manchanda as the lead vocalist. I had a mixed reaction to this song. On the one hand, it is a decent song which clearly has been composed with a great deal of thought. Yet on the other hand, it is a little too 'girly' for me to fully appreciate it. Therefore, I suggest all you ladies to try this one out as I think you will enjoy it more than the guys.
Following this we have Baat Kya Hai, which has been sung by Clinton Cerejo. I enjoyed the melancholic sounds to this one, which gives it somewhat of a dark edge to it. I consider it to be good, but not great. Give it a listen and see whether or not you agree!
Khushfehmiyan is next and has been sung by Shankar Mahadevan. The song has been composed using a range of instruments such as drums, bass and the electric guitar. Unfortunately, this one was disappointing as it is lacking in flavour. I think this one had the potential to be a great song, yet it was brought down to a low level due to the unappealing composition. There is also an unplugged version which is very acoustic in tone. Given that the original version did not work for me, this made the unplugged version all the more dull to listen to.
There is also Sheher Mera, which has been sung by Thomson Andrews. I very much enjoyed the Western theme of the song, which is oozing with jazz. I found this to be a respectable attempt at trying something out of the ordinary and believe it will appeal to a number of music lovers. Give it a try and see if it works for you!
Finally we have Khuda Na Khasta, sung by the amazing Arijit Singh. Although Arijit delivers a good vocal performance, I found the song to be average overall. It is decent, but by no means outstanding. It had all the ingredients to be a really great song, but is lacking in flavour due to the weak arrangement.
To sum up, I found the music to One By Two to be disappointing. I wanted this one to be a really great album after knowing that Shankar-Ehsaan-Loy was going to compose it. Yet the musical trio have not injected enough thought into the album, which made it dreary to listen to. Let's hope that the film is even better when it releases on 31 January!