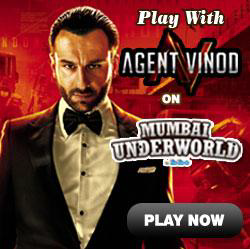 Agent Vinod comes to protect Mumbai Underworld and you can play the game online. The gaming portal Ibibo.com has joined hands with action thriller movie, Agent Vinod and developed a game around the underworld mafia world.
Bringing about a synergy between Bollywood and online gaming, Ibibo has introduced Agent Vinod as a protection Agent and Iram as collection Agent inside the game – Agent Vinod on Mumbai Underworld
Agent Vinod helps the players to protect their Underworld from the loot, in the similar lines of the movie where he plays a spy.
Players who hire Agent Vinod and Iram for the longest duration in Mumbai Underworld get a cool gadget – Kindle Fire. Everyday players who appoint Agent Vinod and Iram as their agents get a chance to win exclusive movie merchandise.
According to Nipun Joshi, a regular player of Mumbai Underworld, "It's a great thrill to have hired someone as cool as Agent Vinod inside my game to protect my Underworld. Kareena's character comes as a bonus." Speaking about the association, Producer, Dinesh Vijan states" Am very excited about the association as it is great to extend the movie onto online gaming space as now a days 50% of the users are on social networking platforms and love playing games"
Tanaaz Bhatia, Managing Director of Bottomline Media Pvt Ltd, the agency that put the association together said, "With the sheer power and reach of social gaming and the already popular Mumbai underworld, partnering with the famous and dynamic Saif Ali Khan with his home production Agent Vinod, we thought it would be apt association with Ibibo.com, providing a platform for gamers to engage with Agent Vinod."
So go ahead and play Agent Vinod on Mumbai Underworld and win cool Agent Vinod movie merchandise!
Check out these cool exclusive pictures of what is in store for you when you play the game!