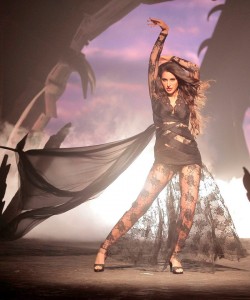 Those who are looking forward to seeing the upcoming Salman Khan starrer Kick will also be in for a special treat. The film also features the beautiful Nargis Fakhri in a special appearance for a song titled 'Devil-Yaar Na Miley.' Nargis spoke about her experiences of shooting for the song and working alongside Salman in this special Q&A. Check out what she had to say!
When asked if she was excited to be working with Salman for the first time, she replied, "I was nervous! He's such a big Bollywood star, I was afraid I'd mess something up. When I went to the set and met him, all my fears faded away. Salman is a very positive person and his sense of humour is amazing! I had such a great time working with him and the whole team."
"It is a very urban, edgy yet sexy dance number," added Nargis. "There was a lot to learn. At first I thought I might miss some steps, but everything went brilliantly well. Salman has a great energy and I think that is what made me so comfortable around him."
Nargis also spoke about the injury she had during the shoot, but forced herself to endure it as she did not want to miss out on such an amazing opportunity. "Yes, I suffered from a ruptured knee and it was extremely painful, but I pulled myself together because I know that opportunities like this don't appear very often. I have no idea how, but I managed to complete it in just four days."
Though she will be appearing in Kick for a dance number, Nargis also said that she does not want to be known for just that and also want to be acknowledged for her work as an actress. "I really enjoy dancing, but I don't want to be seen as just an item dancer. Acting is my passion and I want to do some good meaty roles. I am currently talking to different directors, but nothing has been finalized just yet."
Nargis will soon be making her Hollywood debut in the film Spy which releases next year. When asked which industry she prefers, she said, "I think it has to be Bollywood. I am feeling more comfortable in Bollywood because I have spent more time here and I do have a much better understanding about it. Besides dancing and music is my passion, this is why I prefer to spend more time here (Bollywood)."
Kick releases in cinemas on Friday. Meanwhile, check out the much talked about dance number 'Devil-Yaar Na Miley' below.
http://www.youtube.com/watch?v=Zti5s48tc7k