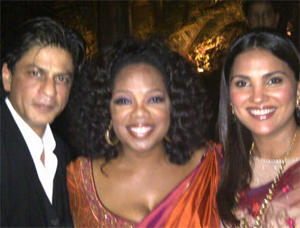 Popular talk show host and philanthropist Oprah Winfrey is currently in India to film her new show 'New Chapter', which will see her travelling to different parts of the world. Parmeshwar Godrej threw a bash in her honour at her Mumbai beach house, which saw Oprah donning an orange sari and meeting the who's who of bollywood industry.
Major stars in presence were Amitabh Bachchan, Abhishek Bahchan, Hrithik Roshan, Shah Rukh Khan, Priyanka Chopra, Lara Dutta, Preity Zinta, Shilpa Shetty, Anil Kapoor, Sonam Kapoor, Abhay Deol, Kangana Ranaut, Kalki Koechlin, Vidhu Vinod Chopra, Kunal Kapoor, Rajkumar Hirani, Madhur Bhandarkar, Anupam Kher, Ashutosh Gowariker, Neha Dhupia, Sameera Reddy, Dino Morea, Imran Khan.
The bash was also Aishwarya Rai Bachchan's first public outing post delivery. Popular degisner duo Abu Jani and Sandeep Khosla, novelist Shobaa De, industriliast Subroto Ray, MP Shashi Tharor, singer Sonu Niigaam and jewellery designer Farah Khan Ali were also present. Oprah earlier visited the Bachchans at their home and blessed Beti B. Amitabh Bachchan tweeted, "The gracious Oprah Winfrey visits our home, to meet us and bless the baby…warm hearted, endearing…drive her to the party in her honour. And Oprah in sari..looking lovely!!"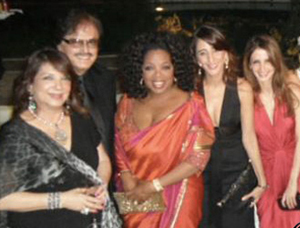 Aishwarya has previously appeared on her show in 2005 and 2009. Abhishek also accompanied her during the second appearance.
Various celebrities gushed about her in tweets and have shared some photos on twitter. Oprah also tweeted in response to Farah Khan Ali, @FarahKhanAli was so great meeting you and all the beautiful Bollywooders. Directors, poets, screenwriters, what a nite!
She will next be attending the literature festival in Jaipur. For now, all the bollywood celebs are enchanted by her warm aura.