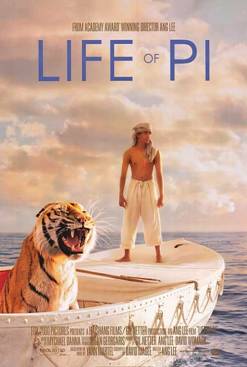 Winner of four Academy Awards – the most of any film this year – Ang Lee's ground-breaking and breathtaking motion picture LIFE OF PI returns to theaters for a limited time only this Friday, July 19. Cinema fans who missed the critically acclaimed film on the big screen have one last chance to see it in the way it was meant to be seen.
Suraj Sharma, Irrfan Khan, and Tabu star in LIFE OF PI which was adapted from the best-selling book which was considered unfilmable until Lee took on the daunting challenge. His remarkable efforts resulted in an Oscar win for Best Director this past February. Based partly in India, the film also won Academy Awards for Cinematography, Visual Effects, and Original Score and became a global blockbuster with movie fans everywhere grossing more than $600 million worldwide. It also was honored at the BAFTAs for Cinematography and Visual Effects
and won the Golden Globe for Original Score.
Director Ang Lee (Brokeback Mountain, Crouching Tiger, Hidden Dragon) created a groundbreaking movie event about a young man who survives a disaster at sea and is hurtled into an epic journey of adventure and discovery. While cast away, he forms an amazing and unexpected connection with another survivor…a fearsome Bengal tiger.
Watch behind-the-scenes features, and interviews with Ang Lee and James Cameron at:
http://www.youtube.com/lifeofpimovie
LIFE OF PI opens on Friday, July 19, in the following theaters. Check local listings for showtimes and 2D/3D format options.
Tempe Dollar 6 Cinemas
Tempe, AZ
Sierra Vista Cinemas 16
Clovis, CA
Naz 8
Lakewood, CA
AMC Orange 30 at the Block
Orange, CA
AMC South Barrington 30
South Barrington, IL
Brookdale 8 Cinemas
Brooklyn Center, MN
Big Cinemas Movie City
Edison, NJ
AMC Studio 30 Cinema
Houston, TX
FunAsia/Richardson Cinema
Richardson, TX
Totem Lake Art Cinema
Kirkland, WA
Roxy 8/Renton Cinema
Renton, WA
CANADA
York Cinema
Richmond Hill, ON