Prem, Pyaar, Mohabaat, Ishq… how many times have we heard those words in a Bollywood movie? And how many times has the scene when those beautiful words were spoken made you sigh with the thought that if that was only me….To celebrate the day of love aka Valentine's Day we asked our writers, "Who would you love to be your Valentine?" Read on to see who they would LOVE to be romanced by today and well, if we are all honest, every day!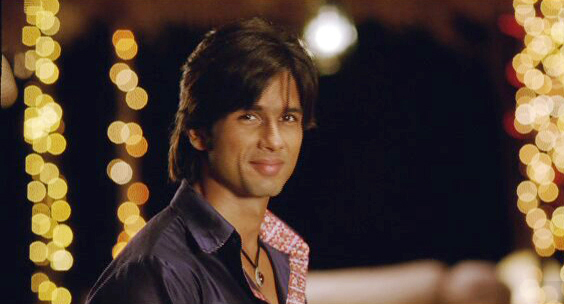 Spending Valentines with Shah Rukh, Ranbir & Shahid! – Avinash Sidhu
I would love Shah Rukh Khan's character in Diwale Dulhania Le Jayenge to be my valentine. This was one of the first films I watched and I immediately fell in love with his character. A funny, flirty yet romantic lover who is brave enough to try and win over Simran's father. I love how he transforms from a playboy to a committed man when he meets Simran. He portrays his commitment and faith in love through his character. It is difficult not to fall in love with him especially when he would call you senorita and come meet you on the terrace.
My second valentine would be Ranbir Kapoor in Raajneeti. I love his character in this film, the seriousness of his character and how he has that silent but sexy look going on. His character is firm and confident and his look in the film adds to the wow factor. He has authority and is presented as a mature man, which makes a change from his previous roles as a lover boy. His character was appealing as it was different.
A scene, which I would love to be a Valentine's date for me, is, the date scene in Dil Bole Hadippa where Shahid organises a 'dhaba date' for Rani Mukerjee. Call me a desi girl, but there is nothing like some dhaba food and some hot jalebis in cold milk for dessert. I love the setting, the hundreds of lights, the atmosphere, the rose and the champagne.
I would love to end this Valentine date off with the rain scene in Kuch Kuch Hota Hai when Shah Rukh and Kajol take shelter from the rain and start dancing whilst Shah Rukh moves his fingers in the air as if to play music that they can dance too. This would be the perfect Valentine's date.
Priyanka Chopra as 'Kiara'- Anjaana Anjaani – Aashi Gahlot
They say that if you truly love someone, you should let them go. If they come back to you, then they always belonged to you. And if they don't, they never were yours.
Priyanka Chopra's character 'Kiara' (Anjaana Anjaani 2010) has a special place in my heart. Not only is Kiara beautiful, but also honest. Not only honest, but a believer in true love. The pivotal moment is when Kiara tells Akash that she isn't ready to move on. She still feels that her heart belongs to Kunal. It's because of this that she cannot fall in love with Akash. However, we all know that Kiara needs to take a journey to understand what she really feels and for whom. For this to happen, she needs to confront her past.
The song 'Tujhe Bhula Diya' touches the heart strings of every broken heart and every person who has had to let someone go. It's picturised on Akash and Kiara sat side by side in a car, travelling on an open road. While next to each other physically, the two are being separated. The open road symbolises their journey and the uncertainty of where this journey is heading.
My magical moment is when Akash drops Kiara off at San Francisco, her home. Kiara's broken heart had driven her away from home and from life. Akash and Kiara met on a bridge whilst both were contemplating jumping off. Life however, brought them together and they decided to stay alive until New Years Eve, when they would both finally jump.
Kiara is angry to be back in San Francisco. Even angrier when Akash explains that she needs to go back to her life. Back to her family and also back to her love, Kunal. She accuses Akash of being hurt because she rejected him. However, that's when Akash explains that this is not about him but it's about her. The pain Akash is going through to let Kiara go is clear, but he is determined to do what is right for Kiara.
"There can be many reasons to stop living. But you only need one to start living". With these words Akash lets Kiara go. Real love is not possessive it is selfless.
The Perfect Valentine Date – Prateeksha Khot
With Valentine's fever all week long and seeing guy friends desperately struggle to do something special for their girlfriends, it made me wonder what the ever romantic heroes of Bollywood would do for their girls. While some bordered on cheesy, others were plain boring – the flowers, the chocolates, the same lines – until Kunal Chopra aka John Abraham from Dostana showed me what a perfect date could be like!
Dostana's Kunal is in love with Neha (Priyanka Chopra) and he tries to woe her by giving her the best date possible. Every girl loves it when her man puts in efforts for her and more so when the effort goes in cooking her something special. A romantic candlelight dinner is every girl's valentine dream but when the entire arrangement – from the food to the seats to the flowers to everything else – is done by your guy, it goes up several notches.
For a movie buff like me, a romantic date is absolutely incomplete without a movie. Which is why I totally loved it when he showed his date her favorite movie! No matter if it's a cheesy chick flick, the fact that he sat with her through the movie- even though they might have seen it a number of times! – is oh so romantic. And definitely, the icing on the cake would be to live out your favorite romantic scene from the movie much like Neha gets to and much I like would love to!
My Valentine Romance – Samreen Tungekar
Every one of us wants to connect to this one character, this one actor who is our 'fantasy' (pun intended). And coming to one setting that would be my ideal Valentines with the ideal person, as my colleague Prateeksha suggested, would be the beautiful Dostana scene, where Kunal (John Abraham) surprises Neha (Priyanka Chopra) for her birthday with the dinner, Kuch Kuch Hota hai and the dance…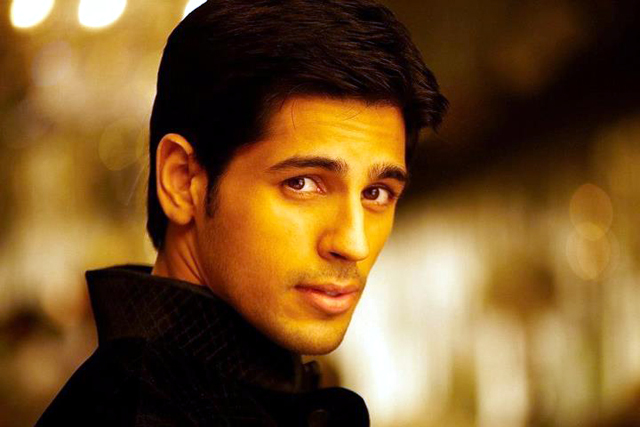 That would be the perfect scene for Valentine's Day but for me it would be with the mesmerizingly cute character Abhimanyu Singh from Student of the Year, played by the chocolate boy Siddharth Malhotra. The perfect red dress, the right weather, some champagne and Abhimanyu with his light adorable way of gazing with a smile. Wow! Now I would give anything for a Valentine's like that!
Who I would love to romance me: Nisha from Hum Aapke Hain Koun – Bodrul Chaudhury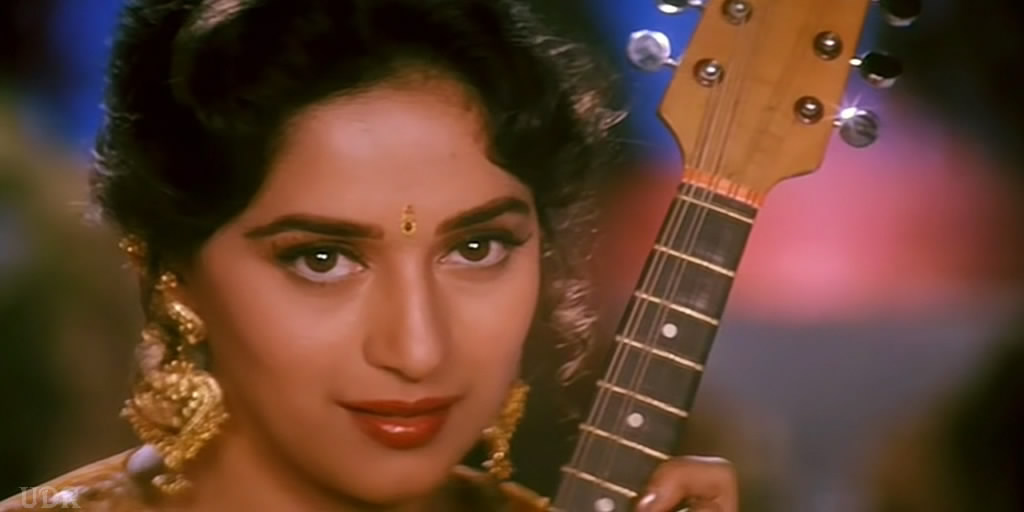 Hum Aapke Hain Koun (1994) is not only a great Bollywood classic, but it is also one of the biggest hits in box office history. One of the finest characters to have arisen from Hum Aapke Hain Koun is Nisha, played by the lovely Madhuri Dixit. Nisha has many great qualities, which would make me want to romance her. She is fun, bubbly, humorous and of course beautiful! Nisha is really at the heart of Hum Aapke Hain Koun and without her; this film would have lost a lot of its energy and spunk. I am perhaps not the only guy who would lust after such a charismatic character. One of my favourite scenes is when Nisha impersonates the library manager at the beginning of the film by putting on his hat and glasses. I love a woman who can make me laugh and Nisha does this in this particular scene. Her sense of humour is one of the many qualities, which I find most attractive about her.
Nisha is not only a sensuous woman in a number of ways, but she is also a great dancer. I very much like her performance to the song 'Didi Tera Devar Deewana.' She not only wows everyone with her superb dance skills, but she looks incredibly stunning in this particular song. Her beauty and charm makes me feel all tingly inside. It just makes me wish that Nisha was right beside me rather than on my television screen. She looks striking in every scene of the film, even when she is not trying. Overall, Nisha's appeal makes me very envious of Prem (played by Salman Khan) with whom she falls in love with during the film. It just makes me want to say "I wish I was that guy who ends up getting a sexy woman like Nisha."
Romance is Munnabhai and Barfi -Ingrid Zellner
Munnabhai (Sanjay Dutt): My God, to be romanced by Munnabhai – that loveable goon with the golden heart and the childlike innocence! He's a woman's dream: a tall hunk, a rock-solid protector in need and a sweet and shy guy when it comes to woo a girl! The way he tries to hide his heart-shaped ring for Jhanvi, the way he longingly looks at her, the way he acts "My heart will go on" with her, and above all: the way he shyly tries to take her hand and just doesn't dare to touch her finger – it's just so cute and sweet and captures my heart over and over again every time I see it. Please look at me that way just once, Munnabhai, then smile at me and give me a tight and heartfelt jadoo ki jhappi, and I'll be your Valentine for ever!
Barfi (Ranbir Kapoor): A rendezvous with Barfi would have an inestimable advantage: You never need to be afraid to be out of words. With Barfi, the language you need is the language of love which sometimes is just silence. Or a smile. Or a glance. It's a language you don't need to learn if your heart is so full of love like Barfi's. For Barfi, nothing seems to be impossible; he even stops the time and turns it back for you. His love is genuine and innocent. And who needs words when someone gives you his heart like Barfi does when he meets Shruti? One thing is clear: If Barfi would give his heart to me, I'd never, never kick it back.
I would love to be romanced by Mr. Left-Behind Rahul Khanna– Rumnique Nannar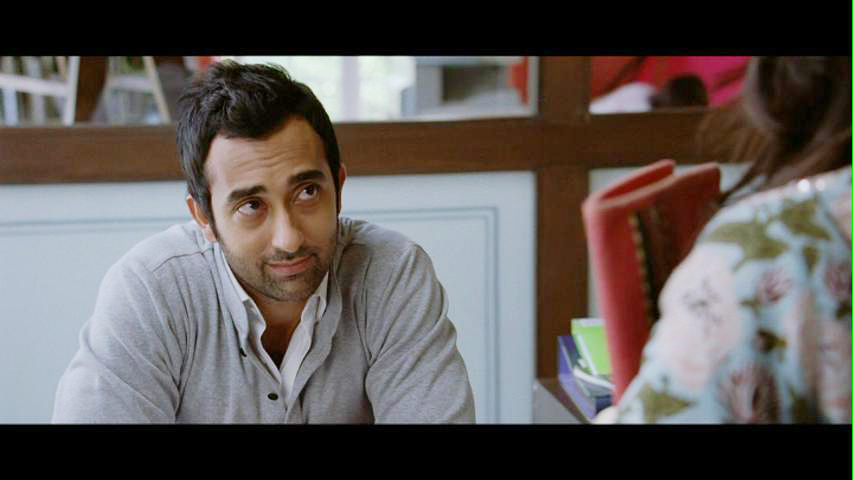 As the epitome of style and wit, Rahul Khanna is more than just the Mr. Left-Behind who can easily replaced by Irrfan Khan in Dil Kabaddi, Saif Ali Khan in Love Aaj Kal, and Ranbir Kapoor in Wake up Sid. Much like his papa, who suffered through many Mr. Left-Behind roles, Rahul's characters in each of these three films made me scratch my head in disbelief. Why in the world would these heroines ditch this amazing and experienced man for these man-childs who can only seem to grow up when they lose their gals to Rahul? Whether it was taking Konkona to a jazz club, or charming Soha with ghazal evenings, Rahul Khanna's characters seem to embody the man who could sweep you off your feet with his intelligence and worldly wise persona. Most unforgivably, is the squandered evenings spent at architecture sites or museums that Deepika gives up on to chase Saif all over again! Just imagine the dates this guy would take you on! Evening spent at a play, yes please, an afternoon wandering old bookshops, hell yeah, a brunch spent with good conversation, signed sealed delivered! It seems from Rahul's twitter that the Mr. Left Behinds that he plays are closer to him than we think. He's effortlessly witty, and posts photo-shoots that are to die for, which may invite a swoon or two from me! Yet, he seems like the perfect guy to headline his own romantic comedy or anything for that matter, if only he rocks a fitted suit and takes this heroine out to a vinyl club!
My Valentine Veer Pratap Singh from Veer-Zaara – Neelofar Jamal
From the moment Major Veer Pratap Singh emerged on my cinema screen I was entranced – and not just because of Shah Rukh (although I guess that did help quite a bit!) Veer touched my heart for many reasons, but one of the main reasons is the hardship and personal sacrifice he goes through in order to gain his true love – Zaara. The journey that the two star-crossed lovers embark on begins with the events being retold in flashbacks by an ageing Veer sat in a prison cell divinely numbered '786'. Veer and Zaara find love on a bus trip they are both on but in the end cannot be together (mostly due to both of them living in different countries; Zaara in Pakistan and Veer in India). Thus begins their epic love saga. Veer is unlike most modern heroes in that he doesn't have to act overly masculine or display any sort of façade to win over his love – his actions in most cases speak louder than his words. He is so deeply in love that the border, religion and culture have no significance to him as he is willing to give up his life for Zaara. It is these qualities, which make him a great character and add to the overall ambience of the film. Below is the infamous rescue scene from the film in which Veer and Zaara both begin to fall for one another.
It is for these reasons that I would love the character Veer Pratap Singh to romance me, what do you think? Would you like Veer to romance you? Or would you like another character, or perhaps another star to romance you? Let me know in the comment box below!
My Bollywood Valentine…all of them! – Stacey Yount
The stage is set for what I think is one of the most romantic and magical ways to say I love you. A red tent filled with gorgeous lamps, candles and flowers, a quartet of violins playing a beautiful serenade. Then the gorgeous Imran Khan turns around and says I love you! SWOON! Okay I am back now, but wouldn't that be a perfect Valentine's date if we lived in the movies? It did not work out how Imran's character hoped in this scene from I Hate Luv Storys but in the end of course it was an HEA (happily ever after).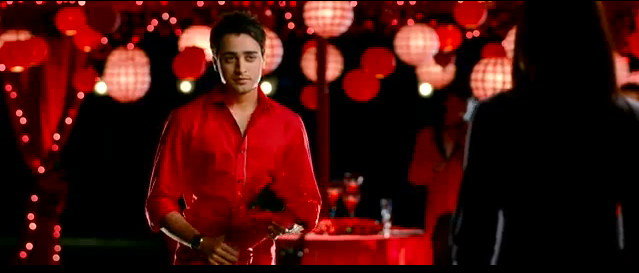 I also would love to be romanced by the actors of Bollywood (who wouldn't right?) in many other films and many a scene and many a song. I could take pages so I will simply list my dream Prems, because honestly I can't pick one and I could go on and on and on and on… Imran also in Jaane Tu Ya Jaane Na, Hrithik in Mujhe Dosti Karogee, Yaadein, Na Tum Jaano Na Hum and Zindagi Na Milegi Dobara, Vivek in Saathiya, Ajay in Chori Chori, Pyaar To Hona Hi Tha, and Hum Dil De Chuke Sanam, Milind Soman in Rules Pyaar Ka Superhit formula, Arjun Rampal in I See You, Shahid in Jab We Met, Vivaah and Teri Meri Kahaani, Shah Rukh in Diwale Dulhania Le Jayenge, Kuch Kuch Hota Hai, and Kabhi Khushi Kabhie Gham, Akshay in Namastey London and Humko Deewana Kar Gayee, Ranbir in Wake Up Sid and Barfi!, Saif in Parineeta, Dino Morea in Holiday, Govinda, John, and Akshaye Khanna's characters in Salaam-E-Ishq, Kunal Kapoor in Aaja Nachle especially in the final play… see my list is never ending and I could keep going …okay have to stop now and go watch some movies!
Happy Valentine's Day from all of us! May it be filled with Bollylove!