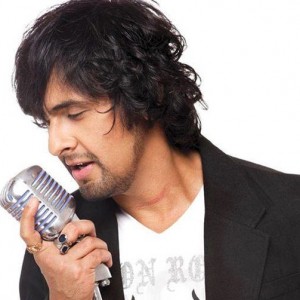 This weekend, Sonu Niigaam will be rocking the UK! With three concerts on the 16th (O2 Apollo, Manchester), 17th (Wembley Arena, London) and 18th (Demontfort Hall, Leicester) of August, we are all excited for Sonu's upcoming tour: Sonu Nigam Rocks the UK. Organised by Perfect Harmony Productions Ltd with their associates Blues Communications, Cisne for Arts and Rock On Music, do not miss your chance to hear the iconic and mesmerising Sonu Nigam live. In anticipation, we bring you our BollySpice top Sonu songs from A to Z.
'Ab Mujhe Raat Din'
Taken from Sonu's own album 'Deewana' (1999), Ab Muje Raat Din is a beautiful song that describes the magic of falling in love perfectly!
'Abhi Mujh Mein Kahin'

From the film Agneepath (2012) cast including: Hrithik Roshan and Priyanka Chopra. This song made Sonu win almost all the awards in Bollywood.
'Abhi Saans Lene Ki'
From the film Jeet (1996) cast including: Karishma Kapoor, Salman Khan and Sunny Deol. Sonu captivates the audience through his voice and the emotions he brings alive. A song that celebrates being in love: 'abhi saans lene ki fursat nahin hai, ke tum meri bahu mein ho': I can't even think about taking a breath, because I'm too mesmerised holding you'.
'Aisa Deewana'
From the film Dil Maange More (2004) cast including: Ayesha Takia, Soha Ali Khan and Shahid Kapoor. Sonu brings alive the emotions of falling in love.
'Bijuriya'

This is from the album Mausam, released in 1999. A fun songs that gets you going. Bijuriya turned out to be one of his most popular songs ever. The most amazing thing happens when Sonu performs this live on stage. Each and every time, he literally manages to get the whole crowd out of their seats, dancing on the floor or on their chairs till they drop. It's always a pleasure to see him perform this song.
'Chanda Ki Doli' 
Sonu Nigam's album featuring him and model Nisha released in the year 2005.
'Chori Kiya Re Jiya'
From Dabanng (2010) cast including: Sonakshi Sinha and Salman Khan. A beautiful, slow, romantic track. A wonderful 'first dance' song.
'Choti Choti Raatein'
From Tum Bin (2001) that starred Sandali Sinha, Priyanshu Chatterjee, Himanshu Malik and Rakesh Bapat. 'Choti Choti Raatein' is picturised at a wedding celebration. It is a song that can never become old. The romance and emotions are enhanced through Sonu's beautiful voice.
'Dheere Jalna'
From 2005's Paheli starring Shah Rukh Khan and Rani Mukerji comes this outstanding song. Not only is Sonu incredibly brilliant, singing with such gorgeous intonation and feeling, he is joined by the pitch perfect notes of Shreya Ghosal. Then the music by  MM. Kreem surrounds you and speaks to your soul. One of the all time best songs ever to come out of Hindi films!
'Inn Lamhon Ke Daaman Me'
Starring Hrithik Roshan and Aishwarya Rai Bachchan, 2010's Jodhaa Akbar featured another amazing Sonu Niigaam song. Showing off the incredible emotion he puts in every note, Inn Lamhon Ke Daaman Me had to be included on the best of Sonu list!
'Lal Chunariya'
From Jodi No.1 cast including: Monica Bedi, Twinkle Khanna, Govinda, and Sanjay Dutt. 'Lal Chunariya' is the charming and romantic song guaranteed to win your beloved's heart.
'Main Agar Kahoon'
The music for Farah Khan's Om Shanti Om (2007) was wonderful and one of the highlights both in picturization and in vocals was the lovely Main Agar Kahoon.  Once again a duet with Shreya Ghosal, this is another brilliant performance that proves why Sonu is considered one of the best! 
'Mujhse Naraz Ho Toh Ho Jao'
From the film 'Papa Kehte Hain' (1996) cast including: Jugal Hansraj and Mayuri Kango, Anupam Kher. This song is an encouragement in the most comforting voice possible, to have and lead a happy life without wanting for more. Sonu Nigam has given this song a lovely soul, which is not only pleasant to listen to but to even understand what it says to you.
'Nagada Nagada'
From Jab We Met (2007) cast including: Kareena Kapoor and Shahid Kapoor. 'Nagada Nagada' is an upbeat, fun song with a Punjabi vibe.
'Saathiya' 
The title song of 'Saathiya' (2002) is the perfect I am so in love with you song for the characters played by Vivek Oberoi and Rani Mukerji. With fab music to accompany Sonu's great vocals this is a song you must give a spin and a dekho.
'Shukran Allah'

From the film Kurbaan (2012) cast including: Saif Ali Khan and Kareena Kapoor. The song was a super hit even though the movie didn't do well at the box office. Gorgeous song!
'Soniyo'
From Raaz 2 (2009) cast including: Kangna Ranaut, Adhyayan Suman and Emraan Hashmi. This romantic and sensual song wants you to fall in love and keep that special someone close to you forever.
'Suraj Hai Maddham' 
Another brilliant performance from the singer. Featured on stars Kajol and Shah Rukh Khan, this song from Kabhi Kushi Kabhie Gham (2001) hits all the right notes and paints a beautiful picture on screen.
'Yaar Mangayasi'
From Kaante (2002) cast including: Amitabh Bachchan, Sanjay Dutt, and Suniel Shetty. This song has a mellow tone and describes falling in love and heart break.
'Zoobi Doobi'
From the record breaking 3 Idiots, cast including: Kareena Kapoor, Aamir Khan, Madhavan and Sharman Joshi. The cinematography to Zoobi Doobi is just as magical as the lyrics.
There you have it, some of our favorite Sonu songs! Please let us know what your favourite song is by leaving your comments below!
Contributions by Charla Manohar, Samreen Tungekar, Stacey Yount, Urvi Parikh.