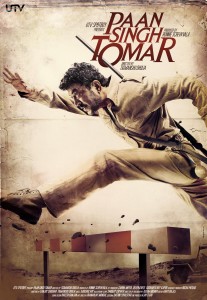 I loved director Tigmanshu Dhulia's Haasil but his subsequent films had been disappointments of varying degrees. So I was not expecting much from Paan Singh Tomar starring Irrfan Khan and Mahie Gill. However, this time Dhulia has lived up to the promise he showed in Haasil and more.
Based on a real life story, the film starts with a nervous journalist (Bijendra Kaala) approaching Paan Singh (Irrfan Khan) for an interview. As Paan Singh narrates his life story in flashback we see a young, fresh army recruit who loves his family, his country and his food. His seniors recognise his potential and in no time he becomes a national champion in the steeple chase race. However, he is forced to take premature retirement from army when his family in his village is threatened and unjustly treated. When the law fails to get him justice, he picks up the gun himself and goes on to become one of the most feared dacoits of Chambal. Not that he agreed to being called a dacoit – Paan Singh believed himself to be a baaghi (rebel), one who did not choose this way of life but was forced into it.
Dhulia gets almost everything right – the story, the screenplay, the dialogues, the mood, and last but not the least the casting. It must not have been an easy task to make a film spread over three decades and that too so authentically. No doubt a lot of research has gone into the making of this film. Nothing in the film feels fake – not the people, the backdrops, the clothes or the dialects. Add to that the brilliant cinematography which captures everything from the races Paan Singh runs to the barren beauty of Chambal so perfectly. The background score too stands out especially in the race scenes. The best thing about Dhulia's direction is that he never lets the narrative get heavy. There are lots of fun moments and light banter throughout the film. Even when the narrative gets intense, the crisp editing doesn't let it become boring.
While the first half of the film is flawless, the second half unfortunately doesn't manage to match up to it. The film gets a bit sluggish in the second half. While I was with Paan Singh all through the first half, I could not totally connect with him when he went about killing people without feeling any guilt whatsoever. For a man who never killed anybody even when in army, he takes to the life of crime and bloodshed with surprising ease. This emotional disconnect somewhat robs the film of the punch that could have made it a classic.
What is classic in every sense though is Irrfan Khan's performance. Be it his transformation from an innocent army recruit to a feared dacoit or his ageing from a 20+ man to a 50+ man, he is flawless. Here is an actor who doesn't need dialogues to convey what he feels – he just looks and that's enough. Don't remember the last time an actor's eyes came out of the screen and touched me. He plays Paan Singh with just the right amount of innocence, intensity and dignity – he is the reason why Paan Singh never stops being a heroic figure.
The supporting cast is very good too. Mahie Gill's earthy sensuality helps elevate her already good performance. Bijendra Kala is brilliant as the bumbling journalist, he shares a wonderful chemistry with Irrfan in their scenes together. Rajendra Gupta, Zakir Hussain and all the other not-much-known actors are perfect for their roles.
The end credits of Paan Singh Tomar pay tribute to the forgotten sporting heroes of India who died penniless and uncared for. Paan Singh would also have been one of those had he not picked up the gun and this film wouldn't have been made. Dhulia makes his point and manages to entertain too. Must see!