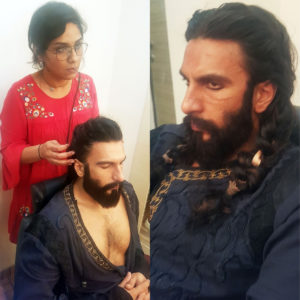 National award-winning makeup, hair and prosthetic designer Preetisheel Singh was so perturbed by all the controversies and protests surrounding Sanjay Leela Bhansali's Padmaavat, she chose not to say anything about her work for it till its release.
"It broke my heart witnessing all the turmoil the film was going through. So I had decided, I will only speak about it when the labour of work met success," remarks Preetisheel who designed the looks for all the top artists including Deepika Padukone, Shahid Kapoor and Ranveer Singh.
"I cannot even imagine how Bhansali Sir would have coped up with the storm. My admiration for him has increased manifold," she adds.
The best in her business, Preetisheel knows her job inside-out, but admits that her work for Padmaavat was extremely challenging. "When working with Bhansali Sir, one has to be ready to always put in that extra bit as he has such a keen eye for aesthetics and detail. I read the script and understood the characters — how they dealt with people. Visualized the environment they would have grown up in, their likes and dislikes, their personality etcetera," she explains.
"There's a lot of study that went into getting under the skin of every character. Post this, I went through my look-references and finally came up with something that would equally excite the director and the actors. I was thrilled when Bhansali Sir finalized the looks."
When a Twitter fan asked Ranveer about how he got his evil look as Alauddin Khilji in Sanjay Leela Bhansali's Padmaavat, the actor promptly replied saying, "Umm. Well Preetisheel and Sanjay Sir should be given credit for the look, really. Baaki I internalised… some…. err… dark shit… and every expression, mannerism, the whole vibe and energy of the character just followed as a result."
umm. well preetisheel and sanjay sir should be given credit for the look, really. baaki i internalised…some….err….dark shit… and every expression, mannerism, the whole vibe and energy of the character just followed as a result…. #Khilji

— Ranveer Singh (@RanveerOfficial) January 30, 2018
She puts in a special word of thanks for Ranveer. "However naughty and mischievous Ranveer comes across in his movies and interactions in media, let me tell you that he is one of the most dedicated and highly professional actors when it comes to work. He would embody the persona of Alauddin Khilji the moment we would begin the look transformation," reveals Preetisheel.
"The make-up, hair and prosthetic would take several hours, and most of the time he would patiently stare in the mirror, completely immersed in the character. By the time his look was done he would walk, talk and behave like Khilji, even before he reached the camera," she adds.
"I'm grateful to Bhansali Sir for showing so much faith in my work," says Preetisheel who also designed looks for another of the maker's magnum opus, Bajirao Mastani earlier.
With the movie garnering tremendous acclaim from all quarters and being a roaring success at the box office, Preetisheel is "super happy and relieved that everyone's efforts have finally borne fruit."
It can be noted here that the lady has also received a lot of praise earlier for her work with actors in more than a dozen movies including Bajirao Mastani, Rangoon, Brothers, Mom, Haider, Parched, Hawaizaada, Shivaay, Talwar, Housefull 3, Ghayal Once Again, Finding Fanny, the Tamil film 24 as well as the pre-Mughal historical epic Nanak Shah Fakir for which she won the 'National Film Award for Best Makeup'.
Coming up next are movies like the Amitabh Bachchan-Rishi Kapoor starrer 102 Not Out, Vikramaditya Motwane's Bhavesh Joshi, Sunny Deol's son Karan Deol's debut film Pal Pal Dil Ke Paas and the Nawazuddin Siddiqui-starrer Thackeray to name a few.