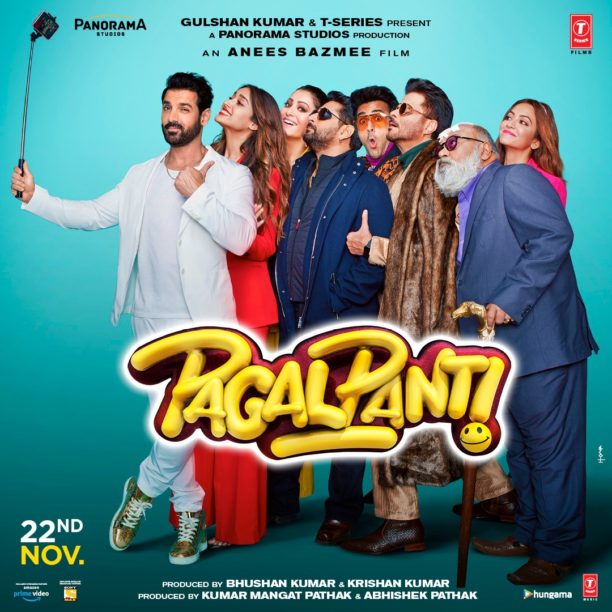 From the mind of Anees Bazmee and produced by Bhushan Kumar comes Pagalpanti… a light- hearted comedy about madness at all levels. Whether it's the 3 idiots at the centre of the story, the women who love them or their seemingly incompetent bosses, everyone in this film is taking a break from serious motifs to have a bit of fun and give audiences an all-around fun time. Anees Bazmee having had many successes with similar films such as No Entry and Mubarakan, has brought together quite the star cast for this purpose and similarly for the 5 short songs of this film has not failed to pull in some very talented music directors in Yo Yo Honey Singh, Tanishk Bagchi, Nyeem-Shabir and Sajid-Wajid.
Pagalpanti opens with a modern take on a perennial favourite from Pyar Kiya To Darna Kya (1998), Tum Par Hum Hai Akte. Neha Kakkar and Mika Singh are an almost perfect combination as both are so experienced in doing the remakes that 2019 is so filled with. Outside of this experience though this song is sadly lacking anything more than a dholak and some extra lyrics for the verses. There is heavier use of horns making this sound like a full wedding feast but from the YouTube clip is a love song between Illena D'Cruz and John Abraham.
The next song is Walla Walla and takes on a distinctly Arab feel. Designed by Nayeem-Shabir it features the vocal talents of Nakash Aziz and Neeti Mohan, all of whom come together well if what is needed is a song for a fun Arab business conference. There is a mixture of suits, some traditional, some not so much and the music reflects this by mixing a bunch of Arabic rhythms and finds a way to bring in some synth beats. There are references to Afghan images but Afghanistan itself is represented by a harmonium. The biggest possible tragedy here is that Neeti Mohan's smooth voice is lost in reverb to bend and fit it to the fake melody of the song.
Thumka is the next song but ironically is the only one that doesn't have a clip available on YouTube for it, so possibly an ending special. Yo Yo Honey Singh takes to the mic for some of his hip-hop/rap stylings. While there is plenty of modern club rhythms, as with most Yo Yo songs he doesn't lose the UP/Punjab feel, whether that be in the lyrics, the use of instruments or just a bit of decent accent work. In any other film this would be the item piece but when every song seems to be taking on that mantle, this disappears into its own insignificance.
The longest song on this album is the next one Bimar Dil. This one is based in a haunted house with Urvashi showing off why she is rated amongst the best dancers in Bollywood. The song itself is the run of the mill modern dance song with a sensual twist: heartbeat drums, club rhythms and a smooth singer over the top. In this case it's a familiar pairing of Jubin Nautiyal and Asees Kaur, who are making quite the singing jodi and don't fail to deliver here. There are plenty of flourishes with flutes, violins and synth all filling in where needed, but overall this song is really the drums and Asees with everything else in support. This is different to the standard sad love song that would normally fill this part of most Bollywood albums, but its Halloween theme is a month late.
Finally, there is the title track known as Pagalpanti Title Track. The video clip is a veritable list of film bloopers from all the actors, in a fun montage of what set life really looks like. The song itself does reflect all the craziness above featuring Ipsitaa and Rahul Kothari on vocals singing interesting film tag lines e.g. "Dimag tum na laga na, kyon ke humme hai nahin", all to an upbeat heavy trumpet backing track influenced by big band swing.
Pagalpanti proves to audiences that films can just be fun and don't have to have a point. Especially in Bollywood, they are escapism for the masses. The music of this album fully backs this up by being completely varied and unable to find its own order in what effectively seems to be 5 item songs. So, in that aspect it's a very good album. However, it doesn't have any standout songs, nor does it help that since each song seems to have been done by a different music director, there are many cooks with many voices. Maybe best to consider the album the same way the film is likely to be considered in time: an interesting mix, which doesn't require any thinking about it.