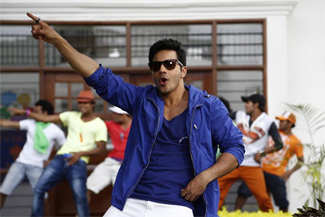 One of the biggest chartbusters of 2014, Palat, has been making everyone tap their feet. With its catchy and upbeat tune, it is one of the favourite songs this season. With our hero Varun Dhawan trying to patao our heroine Ileana Dcruz, Palat has become the biggest 'pick up' anthem this summer.
The tune of the song however bares a very familiar taste to it, and has made the audiences wonder, where the familiarity came from. Well, what we hear is that the tune of Palat has quite been influenced by RD Burman's track 'Jahan Teri Yeh Nazar Hain'.
The composers of Palat, Sajid Wajid are ardent fans of RD Burman, and worship his style of music. Sajid has accompanied his father to various R D Burmans concerts too.
When asked about this resemblance, the composer Sajid said, "It was not a conscious attempt, but I've always been a huge fan of RD Burman. As a kid I have grown up to hear his music. I won't deny any influence in our work, but I'm not sure to what extent it goes. The lyrics and the vibe of the song are similar, some people have called to say that to us. But the tune is different. The roots of all contemporary music can be traced to a composition of yesteryear. You cannot help it when subconsciously someone's work creeps into yours".
According to Wajid, "a musician has a limitation of working on seven notes. There are only saat surs in music. There's only so much hera pheri that you can do to make a song refreshingly different."
Well, with all said and done, we love the song and will stick by it!
Directed by David Dhawan and produced by Balaji Motion Pictures, Main Tera Hero stars Varun Dhawan, Ileana Dcruz and Nargis Fakri in lead roles.
Main Tera Hero is all set to release on 4th April 2014.