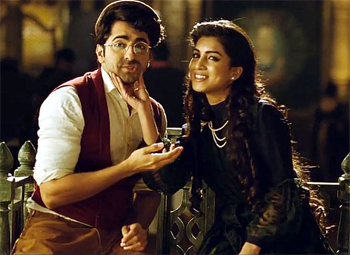 The story of India's first unmanned plane is told in the new period drama Hawaizaada  which releases on January 30. Ayushmann Khurrana headlines this moving new motion picture event which is set in Colonial India, 1895. Also starring in the film is Mithun Chakraborthy and actress Pallavi Sharda.
Pallavi plays Sitara, a Tamasha dancer and the love of Ayushmann's Shivkar Bapuji Talpade but the course of their love does not run smooth.
The actress talks dancing, working with director Vibhu Puri, Ayushmann and more in this cool Q and A! Check it out!
Tell us something about your role in Hawaizaada.
Hawaizaada is mostly based on Ayushmann and Mithun-da's story, my love story. I play a 'Tamasha' dancer in the movie. I think my character has come up very well. All thanks to our director Vibhu Puri & my co star Ayushmann Khurrana who encouraged me to give my best to the film. I won't like to give away much detail on my role at this moment. I just want all my fans to go watch me in a completely different role. I got another chance to show that I can play these kinds of roles too. I believe I'm a versatile actor & hope that people would love my work.
How has your experience been in the film industry considering you come from a non-film background?
Yes, I come from a non-film background and to survive in the film industry, one needs talent as well as luck. Of course in an industry like this, acting and talent is the most important. But luck is an important factor too. I certainly believe that you can't be successful without talent, but even if you're talented and luck doesn't favour you, you're still not going to get where you want. I worked very hard for Besharam but I believe that my luck was not that great. Hence, the film didn't fair very well at the box office. But you have to move on and prepare yourself for the next big thing that life has to offer and keep working hard.
How was your experience working with Ayushmann Khurrana?
Director Vibhu Puri wanted us to attend workshops so we could get under the skin of our respective characters. Both Ayushmann and I took our workshops together and developed a good rapport. Also, since we are both fairly new in the industry we would end up discussing a lot of our scenes and bounce ideas and opinions off each other which was very helpful. Ayushmann as a co-star is easy to work with and is quite a natural actor.
Would you say that Hawaizaada is your new start?
No, I definitely don't think that Hawaizaada will be my new start in Bollywood. After my debut in Besharam I just feel like this is my second chance to show that I can play different kind of roles too. Though 'Hawaizaada' is mostly based on Ayushmann and Mithun-da's story, my love story is another important track in the film.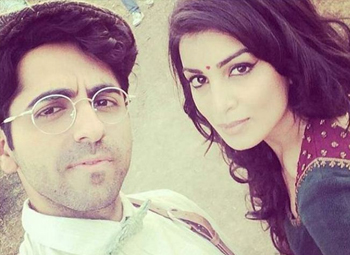 If you could portray any character who would it be?
It would have to be Madhubala. I would love to do a biopic on the legendary actress who was recognized all over for her timeless acting and beauty. I like her story, her life was interesting and there is romanticism in her life. I think it would make for an interesting story. Her films like Mughal-E-Azam, Chalti Ka Naam Gaadi, Barsaat ki Raat or Kaala Paani have immortalized Bollywood and I have watched all of her films countless times. In fact, I'm a trained classical dancer and often during my rehearsals I used to watch Madhubala's songs and try to emulate her moves and expressions.
How was your experience working with Mithun Chakraborty?
I consider it an honour to work with someone like him. Mithun Sir is a legend that everyone has idolized and watched growing up. Whether it's his disco dance moves, dialogue delivery or on-screen presence, he has the spark that will never leave him. It's so inspiring to watch him or just be around him, honestly. I was so nervous when I met him for the first time on the sets of Hawaizaada but he was very humble and easy-going. He is absolutely amazing to work with and I learnt so much just by observing him. His experience shows in every frame as he's that effortless. He has amazing energy and his enthusiasm of an 18-year old just rubs off on anyone who is around you.
What was the biggest challenge you faced during the film?
I think personally it would have to be playing the character of a Marathi girl. I had to undergo special training to learn the various nuances of Marathi as a language, its culture as well as dancing since I play a dancer in the film. I have always loved dancing and performing different styles is every dancer's dream. But particularly for this film, the workshops helped me get under the skin. Vibhu Puri also asked me to closely observe Maharashtrian mannerisms and do my own research on things that would help me get under the skin of the character. Looking back, it all seems quite amazing how much I have learnt but back then during the initial phases it was quite daunting and challenging. But every actor goes through these various phases to become better at what they do so I am thrilled with the results and hope that the audience will enjoy my character as much.