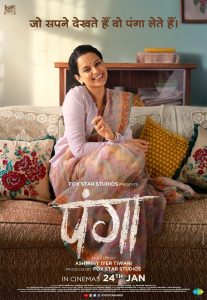 Panga, starring Kangana Ranaut, is an inspirational tale directed by Ashwiny Iyer Tiwari. Panga is an emotional roller coaster tale of a middle class Indian woman, a forgotten Kabaddi world champion who has an inner desire to give a new meaning to her existing role as a wife and mother. She makes an incredible move to come back to the sport despite the challenges that include creating an upheaval in her life as she is torn between family responsibility and love for the sport. At heart it is a story about a family who laughs, cries, dreams together & remains by your side to make your dream come true!
The soundtrack is composed by music greats Shankar-Ehsaan-Loy, with lyrics by the incredible Javed Akhtar. So does the music sing…? Read on to find out!
Starting off with a very Indian vibe, the energetic Panga Title Track is sung by the wonderful Siddharth Mahadevan who is joined by the great vocals of Harshdeep Kaur and Divya Kumar. One of the most interesting things is that it has an incredibly cool acoustic string line (which I was told was Arabic Oudh coupled with Turkish Saz and guitar) that really takes the music up a notch. It also has a rock flavor in parts that works as well. Of course, the percussion brings in the energy and depth. So good! The spirited chorus by Mani Mahadevan, Shivam Mahadevan, Arsh Mohammed and Ravi Mishra is also wonderful. Though it has some odd vibes and musical lines, it really does not take away from it. It is a great track that just gets better, in fact goes to fabulous, with each listen. Hearing the track and the lyrics you get the fight and inspiration she is going through, but seeing the video and then especially within the film I am sure this will play even better.
Dil Na Kaha features Shahid Mallya and Asees Kaur. The music is an eclectic mix of vibes with a bit of Indian beats, a Qawwali section, some more modern-ish flavors and even an orchestral line. Both singers are great, especially in the more Indian musical sections that have the underlayment with the Dhols. Shahid Mallaya has some great moments especially in the 'dheere dheere' vocal line. There is no denying it is a good song that is infectious but… I just wanted more. Again in the film, this maybe absolutely perfect, that happens so many times. You like a song but then see it in the film and it just is the perfect song for the scene or montage or whatever!
Coming to Dil Ne Kaha Reprise sung by Jassie Gill and Asees Kaur, this version has a very auto-tuned feel to it, with a very dance beat. I liked the song as is. The singers bring great dynamic vocals but this version just does not play. There is a rock underlayment that for this version does not work. Something is fighting against each other. I think it is too many sounds. Why do they remix songs? I think I always say that to all the music composers when I write reviews or listen to tracks – to me leave it pure and do a different track. Sorry to say not one I would want to play again. It may work better in the film but for now I would say skip this version.
The Bibby Song is very, very quirky… but the vocals by Annu Kapoor really fit to the vibe of the song. He especially shines in some of the sections where the music is muted! There is some fabulous percussion that really adds to the track. From the video it seems as if this is her training song and her struggle so from those moments it works. However, in the end it is very trippy. Though good, this one will have to be a movie track, not a playlist track!
Listening to Jugnu you think from the beginning what a great song! Jugnu features the first track by Indian Idol contestant Sunny along with Shankar Mahadevan. Both vocalists are pitch perfect and it is so, so, so good! Shankar Mahadevan's vocals fly. He is outstanding. He really is a master vocalist! I loved the Qawwali sections. The music is fabulous too in every aspect, especially supporting and enhancing the singers and adding to the depth. Another brilliant track from Shankar, Ehsaan and Loy. This is one of the best on the album. Definitely one to add to your playlists! I did after one listen!
From the first notes in the soulful Wahi Hain Raste you know you are in for music magic. It is absolutely the best song on the album. I loved every note! Sung with so much brilliance by Mohan Kannan, his first notes are too good and he just brings that exquisite tone throughout the whole song. Anees Kaur is equally superb, with her raspy tone and the incredible feeling she evokes, it makes the song even better if that is even possible. The music, oh the music! You get so much emotion just from the music and that is something you don't hear very often. This is one of SEL's best songs ever! An 11! As I said, it is pure music magic! I had this one on repeat from my first listen, actually the first note! This is a must listen and a must add to your Best of Bollywood playlists! Wah Shankar Mahadevan, Ehsaan Noorani and Loy Mendonsa and lyricist Javed Akhtar Wah!
With the music for Panga, Shankar-Ehsaan-Loy brought something eclectic, cool and fabulous to the music table. Each track is good but 'Jugnu' is absolutely wonderful and 'Wahi Hain Raste' a masterpiece! Do check this album out!
Panga, which is receiving rave reviews, is in theaters now.
It all averages 3.5 for the rating but a 4 for 'Jugnu' and 5 for 'Wahi Hain Raste'!