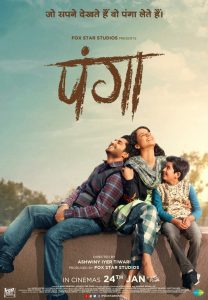 Panga
Starring Kangna Ranaut. Jassi Gill, Richa Chadha,Neena Gupta
Directed by Ashwiny Iyer Tiwari
Just when you thought you have had enough of these mofussil mellow dramas, you know those slowburn rom-coms and familiar family tales with characters that you've met when you last visited Bhopal, Rai Bareilly, Kanpur or Patna, just when you thought this was the director Ashiwiny Iyer Tiwari's Bhopal Ki Barfi, along comes Panga, a film so inured in the magic of middle-class resilience that by the end, I was rooting not just for India, but for the Indian housewife whose dreams are thwarted by the bump and grind of daily existence.
So where do I begin to tell you about the enriching experience of watching Ashwini Iyer Tiwari's Panga? Let me start in the middle. It is a scene where Jaya Nigam is about to leave her husband and son behind in Bhopal to train in Kolkata for the Kabaddi championship. Leaving her world behind to pursue a dream she abandoned many years ago, Jaya is a nervous wreck.As the train is about to leave , her incredibly-supportive husband and endearingly wise son wave a brave goodbye.
"You do remember how many whistles the pressure cooker has to give before the daal is ready?" she bleats pleadingly with her husband as the train moves away.
That mundane farewell line of dialogue says so much about the film's protagonist, and about every woman who hops on board that train to complete interrupted dreams. It also says a lot about the director. It is no coincidence that Ashwiny Iyer Tiwari is a wife and a mother in real life who must have faced those very anxieties insecurities and career-versus-home dilemmas that Jaya faces as she reopens the book of her ambitions, with a support system that every ambitious woman would envy , each played by an actor who seems to have lived some of the character's warm nurturing nature, if not all.
The husband played with such affection and warmth by Jassi Gill, who in the jokey words of Jaya's best friend and Kabbaddi colleague Meenu (Richa Chadha) behaves more like a lovestruck boyfriend than a possessive husband ("Kaun apni biwi ko itna phone karta hai!").The best friend played with an emphatic gusto by Richa Chadha, the cranky but supportive mother Neena Gupta, Jaya's wise little son (Yagya Bhasin, whom I want to adopt immediately) the astute Kabbaddi coach (Rajesh Tailang) and last but not the least the seemingly hostile captain of the Kabbaddi team, the team that Jaya Nigam takes to (predictable) victory at the end, her years of matrimony motherhood and retirement be damned!
Every performer is so in character it seems as though the director has cast real people, not actors. Standing tall in her role of smothered aspirations is Kangana Ranaut expressing so much of her character's yearnings,fears and insecurities through her eyes, you wish she would just stop talking.
Speaking of talking, Panga has smart sassy lines of dialogue for every character even the incidental ones. When it comes to quips, director Ashwiny and her writer Nkhil Mehrohtra just can't get enough. But these are words spoken with such lived-in confidence you forget they've been specially written for the characters.
I'd have probably forgotten these are characters in a film and not people I know in real life, if there wasn't so much background music constantly punctuating the emotions. Panga really needs no prompting to be loved. You surrender to its affectionate homage to the housewife's revived dreams wholeheartedly. No questions asked.