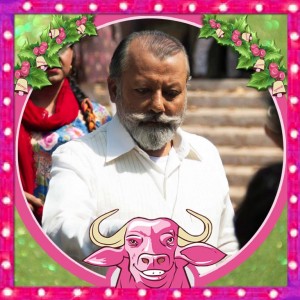 Vishal Bhardwaj's Matru Ki Bijlee Ka Mandola is one of the first big releases to look forward to in 2013. The film stars Imran Khan and Anushka Sharma, who will be seen pairing up for the first time in their careers. One of the leading actors of the film, Pankaj Kapur, has talked about the film itself and his experiences of working in it. He will be seen playing the role of Mandola, who is an alcoholic zamindar.
When asked if his actor son Shahid Kapoor (who is also a professional dancer) helped him in any way to prepare for his dance moves in the film, Pankaj Kapur had this to say. "Shahid doesn't have time for me. Our choreographers and their assistants helped me a lot with lot of rehearsals. Earlier it was difficult, but I later stated enjoying it. Shahid did say, 'Dad, just relax and have fun!' So that helped me to take it forward."
Asked if it was difficult to perform the moves correctly, Pankaj Kapur said the following: "Earlier it was difficult, but I later started enjoying it. It's not something that I have done in any of my films, so it was a new experience. So I basically had to do rehearsals."
He also stated that Vishal Bhardwaj played a crucial role in ensuring that he got all the moves right during the actual filming of the sequences. "There was a lot of the director's contribution as well. As an actor, it is all a matter of how your director says 'this is how much I can get out of you'."
In addition, Pankaj Kapur spoke briefly about the kind of films that he would like to do in the upcoming future. "I am open to scripts. I am hoping that interesting subjects come my way. There is a perception that I do certain kind of films. That's not true. I am open to any good scripts with a good role."
Matru Ki Bijlee Ka Mandola will be releasing in cinemas worldwide on 11 January 2013!