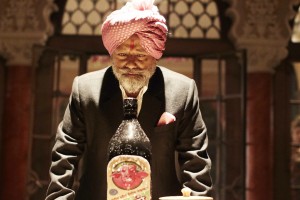 Pankaj Kapur says that Vishal Bhardwaj's Matru Ki Bijlee Ka Mandola is a special film in his career. In the comedy, Pankaj plays a flamboyant and boisterous role of an industrialist Mandola, in the film that also stars Imran Khan and Anushka Shrama. For his character he had to take on some special scenes including singing two songs and even more challenging was that he was required to display his dancing skills too. But what excited the actor was that he got to do a stunt, an underwater scene which he accomplished without any training.
This was the first time that the actor has performed a stunt like this in his entire career and Pankaj Kapur admits that at first he was scared. Explaining the scene Pankaj Kapur says, "I was required to jump from a parachute into a lake and for this I was dangled in the air 100 feet above the ground with the help of a harness. It was scary in the beginning as I had never attempted such a thing before. But once I was up in the air my eyes went down below where the entire crew was working and I started enjoying their activity. There were electronic gadgets strewn about. People were sitting with camera and lights. I got so engrossed in their activity that I got over my fear completely not realizing that I was dangling up in the air for more than two minutes."
What really scared the actor later was jumping into the cold lake. "It was very cold out there and we were shooting early morning at 3.00 a.m. I was asked to jump from the parachute into the water. I was not worried about the jump but what really scared me was the water. I was thinking of all the creatures that exist in the water and since I couldn't see anything below it scared me all the more," says Pankaj Kapur.
However the actor proudly says that he accomplished the feat in just two takes. With a twinkle in his eyes he says, "It was difficult but I managed the feat in two takes. From the initial days of my career I have always given importance to two things. One is to heed to directors instructions and the other is to have faith on my action director. Shyam Kaushal was the action director with whom I have worked in Mausam earlier. I trusted him completely," he concludes.
Matru Ki Bijlee Ka Mandola hits theaters on January 11th!