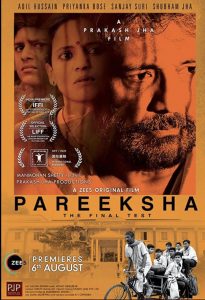 Pareeksha (Zee5)
Starring Adil Hussain, Priyanka Bose, Shubham Jha, Sanjay Suri
Directed by Prakash Jha
The heart is completely in the right place. Pareeksha, director Prakash Jha's best in years, is a heartwarming, unabashed tearjerker. It reminded me of one my favourite Shabana Azmi starrers Bhavna (1984) where the mother of a child goes to extreme lengths (prostitution) to educate her son. In Pareeksha, Adil Hussain as the all-giving father Buchi an honest righteous rickshaw puller, becomes a thief to accrue money for his son's education in a posh school.
Some of the rickshaw pullers adversities are clearly excessive and the school's stiff upperlipped board members are pure caricatures. Jha wins us over with the sheer velocity of the emotions expressed. This is his most emotional films since Mrityudand and by far the most pure-hearted.
There are no 'bad people' in the basti where Buchi's prodigious child Bulbul(Shubham Jha, earnest, sincere) is the star. The film opens its arms to the spirit of democratic amity and embraces the underprivileged section's right to education with a disarming ingenuity.
Some of the poor family's travails such as Buchi's wife (Priyanka Bose) washing what looks like brand new utensils and Buchi meeting the kindest cop in the world (Sanjay Suri) in jail are stuff that old-fashioned melodramas were made of. Pareeksha doesn't shy away from overt sentimentality. This, according to me, is the film's greatest strength.
Buchi is shown to be unabashedly emotional and excessively flexible in his moral rectitude when it comes to his son's future. When Buchi turns a thief to pay for his son's education, we are supposed to flinch. Not at Buchi's desperate transgression but at our creaky social structure which fosters such gross inequality.
My favourite moment from Jha's stirring stimulating syllabus is when Buchi makes his son sit with the (privileged) boys on his rickshaw and the father of one of the boy's throws a terrifying fit. It's a brutally beautiful sequence which ends with Buchi's son tactfully offering to walk to school.
I wish there was more such delicate moments to savour in Pareeksha. Despite the frequently clunky writing this is a film that wins you over with its persuasive emotional integrity. Adil Hussain lifts the sagging portions in the plot. The last time I saw a rickshaw puller who was so dignified and upbeat in his poverty-stricken circumstances was in Bimal Roy's Do Bigha Zameen.
Adil Hussain is clearly the Balraj Sahni of this millennium.