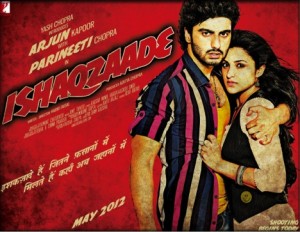 A rich, brash, gullible Delhi brat – that's what Parineeti Chopra's debut role asked from her – and the eight trophies she's won, stands testimony to what an outstanding performance that was.
Says Chopra, "Tell me, how many people get all the awards at every award function they attend and that too — for a person who never thought she will be an actor?"
Parineeti's only complaint is that several people thought she played herself in the movie. However, that is one problem that is soon going to be resolved with her next project Ishaqzaade.
Parineeti will be starring alondside Arjun Kapoor — son of Boney Kapoor and stepson of Sridevi.
This film is also going to be produced under the Yash Raj Films banner and will release on May 18. The movie is set in rural India and is a turbulent love story between a couple belonging to two warring clans.
"Ishaqzaade will show me in a role that is completely different from Dimple. Without conceit, I can say that this film — my solo lead — will have one of my finest performances, all thanks to Habib sir [Faisal, director]."