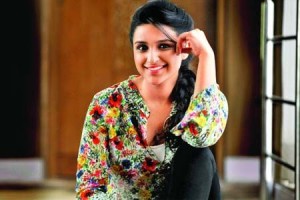 The Ladies Vs Ricky Bahl and Ishaqzaade star, Ms Parineeti Chopra has been rumoured to have been charging a lot for her performances. She reveals all in a recent interview.
So has the newcomer got any plans for New Year's?  'Yes, I didn't have any great plans for the New Year anyways. So when the offer came to me, I was like, 'Great, let's do it.'
What about the rumours circulating that she lowered her price for the New Year's performance? 'It's absolutely ridiculous. I am glad that people are talking about how much money I am making, but it's untrue. The reason I am doing this performance is because I am getting three times the amount that I normally make for a stage performance. And it's strange to talk about money since it's a personal thing,' PC declares.
Parineeti elaborates further, 'Why would I do that? Why would I waste my New Year's Eve performing for an amount that's not my normal asking price? I am making much more than I normally charge. I don't want to quote a figure, but I feel that's the main reason why artistes go in for such performances.
What about work-wise, has everything been quite in that aspect? 'Not really. I shot Ladies Vs Ricky Bahl and Ishaqzaade back to back, so they released quickly. It's strange to have people stating that I have done nothing after my last release. And it's not like I have been in the industry for four years and haven't worked for two years. I have just spent 11 to 12 months here. And within five months, two films were out. So, I don't think I have been quiet at all. I have been offered many films, and some of them might actually be great projects to do. But it is my personal choice to do a film that I will always be proud of. Maneesh Sharma's film is among such projects. I don't want to do films just because they will get me a lot of money or are made by big directors and feature huge stars.'
Any plans for the future? 'I can confirm that next year. I have signed two more films in which my roles are great and I am not a mere showpiece. But it will take time to finalise things, shoot them and bring them out on screens. Yes, we were supposed to start (Maneesh Sharma's film) in August but since he had a slipped disc problem, the doctors advised him almost three months of complete bed rest.'
Didn't the wait irritate the feisty newcomer? 'Not at all! I am very patient that way. I knew I had a very good role in his film. I was very proud of it. I never thought, 'Oh God, I have nothing to do for three months. It only gave me more time to prepare.'
About working with Akshay Kumar (in his remake of the hit Tamil film Thuppaki) she clears the air, stating, 'I really want to work with Akshay Kumar and Vipul Shah (co-producer) one day. But things just didn't work out with this project. And Vipul-ji completely understood my point. I don't know why such a big hullabaloo is being made out of this!'
So there you have it – Parineeti's future and current plans all in one place! Stay locked to BollySpice for more Bollywood ghap-shap!