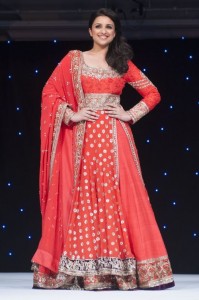 Young star Parineeti Chopra has certainly made a splash since coming on the scene in Ladies Vs Ricky Bahl. The actress then went on to blow everyone away with her fabulous performance as Zoya in the critically acclaimed Ishaqzaade. Chopra was recently in London on Saturday, 23rd February, to walk the ramp for Manish Malhotra's charity fundraiser in aid of The Angeli Foundation. Right before the show the actress spoke exclusively to Bollywood reporter Sunny Malik. See what she had to say about walking the ramp, her next projects, and what she loves to do even more than acting.
You studied in Manchester before joining the film industry in Mumbai. How were your days here?

(Laughs) I still miss my days here. I love what I do right now; acting. My university days were just really special. The time I spent here was my first interim independent life experience, which I really loved. I was lucky enough to be in a great city. Manchester is very student friendly and I every time I come back, I have to go there because I have great memories of the place.
Did you have to keep it a secret that you are related to a well-known Bollywood star (Priyanka Chopra)? 

All my close friends knew that I am related to Priyanka because I showed it off proudly. At least all mt best friends at University always knew it. There was not any problem. But yes, it did spread after a while and people would ask me questions about her. However, when I come back here now, it's very different because they used to say that my sister (cousin) is an actress and today I am an actress. It's very different but still exciting.
You are in London to walk the ramp at Manish Malhotra's charity fundraiser for The Angeli Foundation. How did that come about?

I am one of the few lucky actresses to be associated with Manish Malhotra. I have walked for him thrice, in three different shows, in Dubai, Delhi and Mumbai.  I am also associated with the Mijwan foundation in India, which also helps the girl child. Malnutrition and girl children are two causes that I am associated with, in India. When The Angeli Foundation show happened, Manish called me for it. I did not have to think about it because it is a cause I completely support and a designer I know and always works for good causes. It was also in a city that I love (laughs). I decided that I have to  be here.  
Are nervous to walk the ramp in London?

No, I am not nervous (laughs). I am very excited. I never thought I will come back here for work. I never thought I will be recognised here. It is winter and I am wrapped up, but still there were a few people who recognised me. Last time, when I came to London in summer, it was just surprised that so many people recognised me. I used to walk these same streets four years ago in a very different world and frame of mind. Today it's very different but positive. I thank God for that. I was living here alone and whenever I came to London it was with my friends or family. I did everything without thinking. Today, there are certain places I have to think twice about, before visiting. I have to always think about how I am dressed. But if these things would not happen, I would be very depressed. As an actor, you look for recognition. If I would not be recognised, I would be very depressed.
Ishaqzaade did not release in the UK. Were you disappointed? 

Of course, you should ask YRF why they did not release it here (laughs).
An international cut was to be released in the overseas market. It has not happened so far. What is the update on that?
Frankly, I am not in a position to say what is happening with the international cut. I am aware that there was supposed to be a second release. However, with newcomers like Arjun and I, it was a huge risk to release it in the overseas market even though it was a big budget film in the same week of release as India. Hence, Aditya Chopra, Avtar ( YRF – International) and the international distribution team decided not to release it here. Why the international cut has not come out, only the international distribution team will be able to tell you (laughs). If I think selfishly, only as an actor, I would have loved it to release everywhere. The film has done extremely well in India and people abroad have managed to see it either on DVD or legally online, which is great. If there have been releases with newcomers after that, they had more confidence to release them abroad. I think, Ishaqzaade started that and I am very proud of the fact (laughs). I hope the international cut is released very soon.
The title of your next film with Sidharth Malhotra is quite fun and unique; Hasee Toh Phasee (If she smiles, she is mine)
(Laughs) Yes. They are talking about me obviously.
It should be the other way around because you have a lovely smile.

(Laughs) So it should be him when I smile. I think, I'll be doing that in the film (laughs). I think, titles always need to create interest because that is the only thing out there before anything else. 
Everybody is saying good things about it and it fits into the film really well. I wish I could tell you more about the film but I am not allowed.
What other films are you currently doing besides Hasee Toh Phasee?

I have a three film deal with Yash Raj Films. I am currently shooting the third film, directed by Maneesh Sharma with Sushant Singh Rajput. His film Kai Po Che just released. I am shooting for the film immediately when I go back to India. I start Hassee Toh Phasee in mid-April and finish it in in July or August. I then start Shaad Ali's film in August. There are two more films that are locked but I can't talk about.
The film directed by Shaad Ali is with Ali Zafar right?
Yes, Ali Zafar plays the second lead but I am paired opposite Ranveer Singh. There will be two guys and me (smiles).
You turned down a film with Akshay Kumar..

Yes, that film was offered to me but it was not a script I wanted to be a part of. It was not something I wanted to do because there was not much to do for the girl. I want to work with Akshay one day because he is also one of my favourite actors. I will work with him one day.
Your cousin sister Priyanka Chopra has made her foray into music as a recording artist. I saw a video of yours singing a song from Ishaqzaade. Is singing something you want to pursue later on in your career?

You know, sometimes I love singing more than acting. I have been singing since I was three. She came into the music world in a big way. If I get an offer like hers, if that ever happens to me, I would definitely take it up. I would love to playback for myself one day. Singing is my passion.