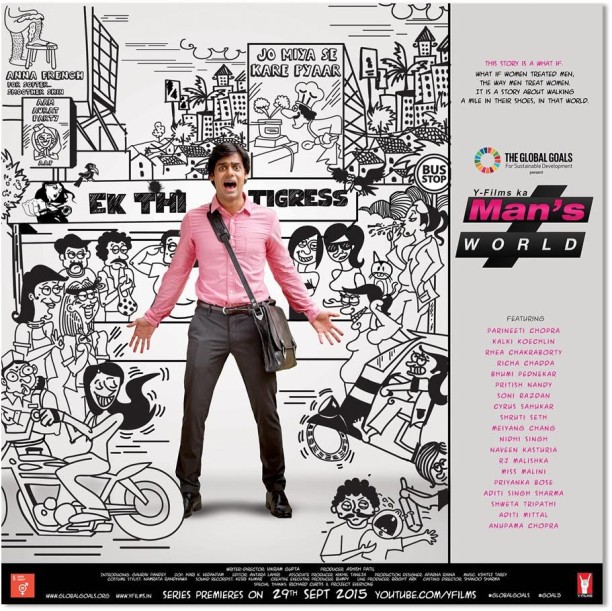 Y Films, the youth division of Yash Raj Films, is getting ready to premiere the biggest multi-starrer series on the internet, Man's World, which has been created to promote the cause of gender equality in India to support the United Nations' Global Goals for Sustainable Development campaign. This four part series features some of the biggest influencers associated with the cause of gender equality like Parineeti Chopra, Kalki Koechlin, Richa Chadda, Soni Razdan, Pritish Nandy, Rhea Chakraborty, Bhumi Pednekar, Miss Malini, Cyrus Sahukar, Shweta Tripathi, Priyanka Bose, Anupama Chopra, Aditi Mittal, Nidhi Singh, Naveen Kasturia, Meiyang Chang, Aditi Singh Sharma and RJ Malishka.
Man's World, a comedy, is a what if. What if women treated men, the way men treat women. It is a story about walking a mile in their shoes, in that world. The lead protagonist of the series, Kiran, is a man who believes the world is unfair to men, and soon finds out how unequal, uncomfortable and unfair the treatment to women really was, when he faces gender discrimination as a man in a world that gets 'flipped'. Kiran is played by Gaurav Pandey, who is being launched by YRF in the series. The series is written and directed by Vikram Gupta, who has earlier directed the Ching's 'Hunger Ki Bajao' campaign TVCs, starring Ranveer Singh and produced by YRF.
Man's World will be available to audiences for free on the YFilms' YouTube channel, starting 29th September. The second episode will premiere on 1st October, the third on 6th October, and the series finale will air on 8th October.
Check out the trailer!
YRF has been working closely with Richard Curtis, the writer-director of iconic films such as Four Weddings and a Funeral, Notting Hill and Love Actually, and his team at Project everyone, to create this series, to promote Goal 5 of the Global Goals campaign. The aim of Goal 5 is to 'Achieve gender equality and empower all girls and women, everywhere'. Prime Minister Narendra Modi shall pledge the country's commitment to Goal 5's 'Gender Equality' on September 25th at the UN General Assembly in New York.
Says Parineeti Chopra, "YRF has always been ahead of its time. It was only natural that if the UN did something in India, YRF would be involved in it. I hope this series brings a positive change in everybody's life."
Says Pritish Nandy, "The crux of the matter is that you and I and all of us must practise gender equality all the time in every context without talking too much about it. It's something that must exist in your life as a matter of fact."
Says Kalki Koechlin, "It's fantastic that YRF is working in collaboration with the UN. I really hope the series picks up and people become more conscious about inequality."
Says Richa Chadda, "It's a really nice initiative and the script is great fun too. What's been great to see is that the men associated with the project are also revaluating themselves. Because feminism isn't necessarily about hey women we are better than men , it's the notion that we are created equal."
YRF Vice President, Ashish Patil says, "Big shout outs & big love to all the fantastic people who've come on board and helped turn our first series, Man's World, into the biggest multistarrer ever on the internet! They've all brought in an incredible energy and their own experiences into getting this very important message on gender equality out there to as many people as possible, making Man's World truly special. We're hoping our viewers enjoy watching it as much as we did making it."
An exclusive, one-time only premiere of the full series will happen at the 6th Jagran Film Festival, at its final chapter in Mumbai, on October 1 at 8.30 pm at Fun Cinemas, Andheri West. For more information on registrations, log on to www.jff.co.in. or www.bookmyshow.com
Remember, Man's World, will be available to audiences for free on the YFilms' YouTube channel (YouTube.com/YFilms), starting 29th September. The second episode will premiere on 1st October, the third on 6th October, and the series finale will air on 8th October.
ABOUT PROJECT EVERYONE
Project Everyone is the brainchild of Richard Curtis with the ambition to tell everyone in the world about the Global Goals so they are best achieved. The project's Founding Partners include Aviva, Getty Images, Pearson, SAWA Global Cinema Advertising Association, Standard Chartered, Unilever and the Bill and Melinda Gates Foundation.
In India, the Global Goals campaign is being supported by various corporates, organisations, media houses and NGOs including Reliance Group – the first Global Goals Campaign Partner from India, Tata Group, eBay India, Confederation of Indian Industry, Hero MTB Himalaya, Hello! India Magazine, Yash Raj Films, Magic Bus and Akshaya Patra. All over the world the project is being supported by hundreds of television, radio, poster and digital companies, mobile phone and broadband providers, NGO organisations from all sectors, businesses, sports clubs, film and television production companies, record labels, events, magazines and retailers, all of whom have agreed to carry the goals to their fans, customers and users to help them become known all over the world.
For more information please visit www.projecteveryone.org.
About the Global Goals for Sustainable Development
The Sustainable Development Goals are at the heart of the ambitious new global agenda that have been agreed and will be adopted by the 193 Member States at the Sustainable Development Summit which will take place September 25th-27th, 2015, in New York at the United Nations. More than 160 world leaders will be in New York to adopt the goals — which builds on the UN's successful Millennium Development Goals (2000-2015) that have lifted millions out of poverty. This new agenda will build on the successes and go further because it is a universal agenda that will improve the lives of all people around the world.
Through an integrated approach, the goals will tackle the social, economic and environmental challenges to achieve sustainable development to meet the needs of the present without compromising the ability of future generations to meet their own needs. The new Sustainable Development agenda will guide all countries on a path that will transform the lives of all people toward increased prosperity and greater well-being while protecting the environment.
For more information, please visit www.globalgoals.org.
About Y-Films
Y-Films is the dynamic, vibrant start-up at the intersection of films, creativity and youth culture that hopes to challenge the norm and detonate boundaries. Giving the youth a creative outlet and voice that will entertain and unite on film and beyond. A studio that promises to deliver kick ass films of the youth, by the youth, for the youth. And be a platform for talent – both on screen and behind the scenes – who will break and set new rules of story-telling. Wanna know more? Come on in… www.yfilms.in