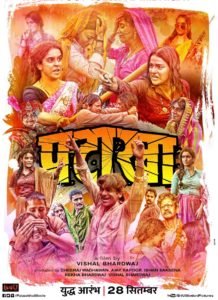 Vishal Bharadwaj is well known in Bollywood for taking on interesting topics in his movies. For his projects he has worn many hats: he has directed, produced, and written the story and script as well as composed music for and even sung some of the tracks for his films. Some of the most interesting stories of the last 20 years have been heavily influenced by his work and for this he has many, many awards to his name. His latest story is even more so in Pataakha, based on Charan Singh Pathik's short story titled Do Behnein. As the titles suggest this will be both a firecracker and a story of two sisters. The music will surely be explosive!
Pataakha's trailer seems to centre around the infighting between the two sisters who are the major cast of this film. Balma, as the first song in this album certainly harps on this theme. "Thero gundo balma, mero naik balma" says Rekha Bharadwaj to Sunidhi Chauhan and she returns the complimentary insult back. Rekha is asked to hold a more traditional sound in her voice, more nasal in her words, while Sunidhi aims to be the bright, loud singer audiences have known forever. Over every little detail the girls seem to be fighting to prove that theirs will be the better groom. Traditional instruments sit in the background providing nothing more than a steady beat to all this with harmonium, tabla and sarod featuring in each their own. The fight does seem to be drowned out towards the end of this short but lively song with a dholak seeming to create a Bhangra feel, maybe at a local festival. Worth listening to just for the lyrics, but it lacks any kind of support to keep it interesting, which makes the 3:51 length of the song about right.
The title song, Pataakha, is sung by Vishal Bharadwaj and he is backed by a jazzy accordion, a violin that embodies the fiddle tone and a light snare drum. The singer takes full control of the song stressing that there will be fireworks: left fireworks, right fireworks, everywhere fireworks! However, the one big point of the song is the heavy 'kha' sound which has been put in for emphasis. Even though again this song is short (3:37), by the end this sound is almost painful. There are several instrumental cameos to change it up as there isn't much to the lyrics, but these do not ease the feeling of Pa-taa-KHA!
The album's next song, Hello Hello, opens with a mysterious sounding acoustic guitar background. Rekha Bharadwaj takes a solo performance on the mic, again giving a very nasal performance for that traditional touch. The lyrics here are an odd mixture of English and Hindi, although its hard to find Hindi equivalents to 'WhatsApp' and 'network'. From the sounds of it, the girl is inviting the guy into her online life, with possibility to go deeper in the real world. The backing for this is bass guitar and dholak in the choruses, mandolin and tabla for the verses, thus giving them each a unique feel. Overall this is a fun song, with interesting lyrics and an offbeat voice that gives it a bit of flavour.
Arijit Singh is in for the only sad song of the film, singing Naina Banjare. An acoustic guitar and synth sounds surround Arijit's outstanding voice in what is so classically Arijit there are posters of it. A light snare, bass drum and hi-hat provide the beat but Arijit's voice shines as listeners expect it to. Still a very sad overtone to once again a short song (3:31), and yet it manages to be repetitive losing the feeling of purpose that the song begins so beautifully with. No tissues required, but maybe a break from all the excitement.
Gali Gali is the final song of the album and being this time of year there must be a song for Ganpatti baba! Of course, this is thus about celebrations in every street, earthen pots full of bhang and generally everyone having a bit of fun. Also of course, there is no love lost between the sisters, so there is a competition in all this too for who is more devoted and so of course no one else could sing this but Sukhwinder Singh. Again, so classic Sukhwinder that cinemagoers could close their ears and think back to any of his tunes while watching the scene unfold without missing a beat. This doesn't make it a bad song, just a formula that's been done and worked before.
Pataakha's songs do as they say they do on the 'CD jacket'. Balma is about balmas to come, 'Pataakha' is an audio picture of the title, 'Hello Hello' is about connecting people, 'Naina Banjare' is about sadness in the eyes and 'Gali Gali' is about people on the streets celebrating. However, each of these songs being so short we only get little snapshots of each part, so we are left feeling a bit short purely from an album standpoint. Nevertheless, from a film standpoint this plays well in Vishal Bharadwaj's focus on the story as he has done so many times before and gives the actors and actresses more time to show off their own skills.