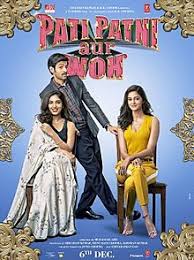 Pati Patni Aur Woh
Starring Kartik Aryan, Bhumi Pednekar, Ananya Pandey
Directed by Mudassar Aziz
First things first. Apart from a riff of Thande thande pani se nahana chahiye in the background and the end-entrance of a femme fatale (Parveen Babi in the original, Kriti Sanon in the new version) there is no similarity of any kind between B R Chopra's 1978 sex comedy Pati Patni Aur Woh and its new Kanpuriya avatar.
Sanjeev Kumar—may his soul rest in one piece—is replaced by a moustachioed Kartik Aryan, way too young to play a husband going through a midlife crisis, but we'll let that be. Whatever Kartik lacks in the years, he compensates for with his intuitive feel for the young Indian sexually active male's appalled rejection of matriarchal bullying.
As usual, Kartik playing the average bloke, this time a Kanpur guy named Abhinav Tyagi, transfixes his character's gaze in the hemisphere of the hangdog. He is perpetually perplexed by the direction into which the women in his life take him. Strangely all the best male lines are given to Kartik's Tyagi's best friend Fahim Rizvi played by Aparshakti Khurrana. The natural-born scene-stealer has a whale of a time sinking his teeth into a role and dialogues that seem to be fated for his consumption. Aparshakti doesn't lose his character's mojo even when a mirthfully menacing cop (played by the wonderful Manu Rishi Chadha) jokingly threatens to deal with him in an 'enounter'.
This, considering everything, is pretty abysmal humour.
The same relish, alas, cannot be derived by us, the audience . The extra-marital affair gets itself into a lather of chaos in the second-wife with Tyagi no longer sure what he wants: wife or distraction. This dilemma of distraction is dealt with in the plot with such simmering bustle that we never get a chance to become emotionally involved with the triangular turmoil.
It's all done in a rush of tongue-in-cheek joy, as if the director says,this is comic territory, so no harm done even if the hero has strayed from the straight and narrow path. This is a dangerous way to deal with infidelity. B R Chopra got away with its because of Sanjeev Kumar's exceptional talent that made the unfaithful husband's roving eye seem bearable.
Here in the alleged remake Tyagi's betrayal is intolerable. Bhumi Pednekar's character takes the full brunt of the adulterous insinuations. She is that reliable rock that prevents the boat from rocking, and a dependable actress to play the dependable spouse to an undependable husband.
Ananya Pandey's Other Woman act is thoroughly uni-dimensional. Not her fault. You can't cast a kid as a sexy world-weary seductress and get away with it.
Pati Patni Aur Woh manages to entertain in spite of its lopsided representation of marital betrayal. You may or not come away from this enjoyable film rooting for the roving eyed husband the way you did for Sanjeev Kumar 41 years ago. Lekin zamana badal gaya hai. Times have changed. Who knows this better than poor Tyagi?
Perched dangerously on a windowsill at one point in the plot, Kartik's Tyagi can be seen wondering what he is doing there. That is a feeling which this politically incorrect drama cannot avoid.