Memory lane has a special place for our firsts. Each of them represents an age, an era and an experience. From my first tooth to my first bruise, my first day at school to my first belly flop into the pool, they are all there. Some are protected by a forgetful mind but they are there. They make the identity we create in life. For example, a part of my identity is Bollyspice. Like all the writers here at Bollyspice. How does this link to the title? Well, Bollywood's love affair with first loves and the release of Bombay Talkies is what prompted the title of this piece actually. You see, it's just like our writer Pooja Rao said in her review of Bombay Talkies, cinema doesn't just affect the lives of those involved, it affects its audience too. So the writers at Bollyspice bring to you our Pehla Nasha, Pehla Pyaar aka Bollywood Cinema in a mini memory lane journal.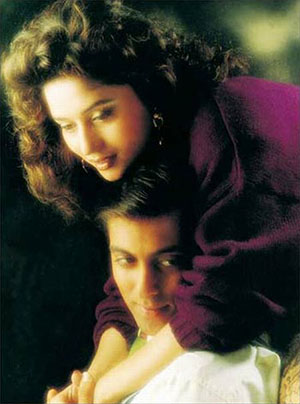 "My first Bollywood film at the cinema was my point of no return: I was eight years old and after my Bollywood cinema experience I had fallen head over heels, unconditionally, completely, entirely in love with Bollywood. As far as I can remember, Hum Aapke Hain Kaun was the first Bollywood film to be screened in our area. The whole idea of watching a Bollywood film at the cinema on a big screen was giving me butterflies. I can still remember the excitement I felt, as my cousin and I were stood queuing outside the local cinema. The entire family was there and the atmosphere was electric. It felt like we were going to a wedding! I remember the lights going low in the cinema hall, aunties whispering loudly to each other eagerly as we waited for the film to start. I held my breath as Salman Khan and Madhuri Dixit appeared on the silver screen. I couldn't believe my eyes. The stars I had seen on our TV screen were now on a cinema screen right in front of me! I watched with wide eyes, my hands gripping a cold drink can tightly. The songs would take my breath away as they blasted through the cinema surround sound. It felt like I was actually in the film as I stared at the cinema screen, absolutely star struck. But what really moved me was to see my cousin begin to cry when the sister-in-law passes away. I didn't quite know how to react because my cousin was 'too cool for school'. However, what I did understand at that point was how powerful films can be and that a good film is one that forces you to feel."- Aashi says as she reminisced the days she clutched her grandfather's hand and scanned the local Asian store's DVD library each week in her childhood.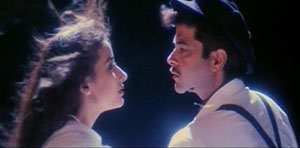 Rumnique confesses to an obsession as she elaborates her early impact: "Perhaps I wanted to be that 'Ek Ladki Ko Dekha', that Anil had seen in my ripe old age of 3-years-old. Vidhu Vinod Chopra's underrated gem 1942: A Love Story was the most formative film in my life since it spawned so much of my overactive love for Indian cinema. It has an innate vintage touch with its gorgeous and evocative music that was Pancham Da's final soundtrack to the little period details in Anil Kapoor's outfits. However, its that famous song where I learnt the words by heart and often stopped watching the rest. I responded to it on a visceral level, it had singing and Anil and Manisha's love in that film was so overt and swooningly rendered. Even as I grew up, I never tire of it because the emotions it conjures up in that famous song and Anil's winning smile are enough to make me fall in love all over again. Usually for special films, it's recalled in chunks, that scene where this happened or that song where the lead couple snogged! The cassette was played in our crackly kitchen radio and the songs certainly helped in my indoctrination. It's the same when I see it now, there's the charged romance with the backdrop of colonialism and the Quit India movement. Yet, I revisit it time and again because it has so many of my projections on it, it's my childhood staple and the one film that led me down the fortunate rabbit hole of Bollywood!"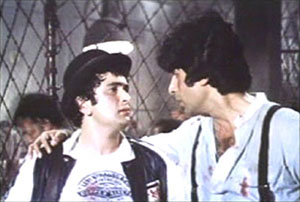 Yet, it wasn't jut the girls that went gaga. Anjum had his copycat moments as well. -"The year was 1981 and the film was Naseeb. It was directed by Manmohan Desai and was one of the early Bollywood films shown on national UK television, raising the numbers of people who had a chance to watch the film abroad. The greatest memory for me was Amitabh's entry song 'John Jani Janardhan', sung by the legendary Mohammed Rafi. It remains the definitive multi-starrer song video, which featured all the leading stars of the day, from Raj Kapoor down to Rajesh Khanna, with reigning superstar Amitabh dancing amongst them all. The concept was later recreated by Farah Khan for her Om Shanti Om. In the song Amitabh, a waiter in the film, enacts a scene where he flips his tray of drinks from one hand to other, behind his back, onto his foot and up in the air! Rest assured, this stunt was recreated many times over, by a young child dressed up in his waiter's suit with a tray in his hand!"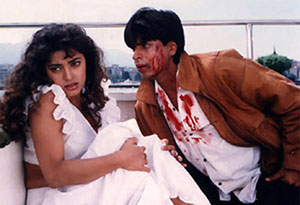 In Anjum's defense, I don't think there are many that haven't played dress up or memorized every fact about the favorite. Take a peak at Samreen and Bodrul's memory lane magic, as they step up the fanism. -"Bollywood is renowned for its exquisite take on love stories. Yet the film which captivated me most and ultimately solidified my passion for Hindi Cinema was an unconventional love story about a mentally-deranged man who was obsessed with a woman already in a committed relationship with someone else. Yes, it was Yash Chropra's blockbuster thriller Darr (1993) which turned me into a Bollywood maniac for life. While watching this film, the person who amazed me the most was Shah Rukh Khan and his skillful portrayal as Rahul, who was stalking and tormenting Kiran (Juhi Chawla), the woman he worshipped the most and whom he was determined to attain as his lover. I loved the way in which Shah Rukh managed to provide conviction to his character and it was due to this that made Darr an edgy and adrenaline-pumping film for me. While my sisters were obsessed with the young Salman Khan; it was I who was one of the first in my family to show appreciation for Shah Rukh and the variety he had to offer as an actor.
Darr simultaneously turned me in to a Bollywood fan and a Shah Rukh Khan fan. After only playing three villainous characters, the other two being Baazigar (1993) and Anjaam (1994) (all of which were brilliantly played by Shah Rukh), this talented actor went onto play largely romantic characters. Though I still remember my childhood crushes on Sridevi and Madhuri Dixit, it was these romantic characters that were played by Shah Rukh Khan which reinforced my respect and admiration for him and he ultimately became a huge Asian role model for me. Moreover, given that the films he starred in were done in typical Bollywood fashion, they also contributed towards me becoming a devoted lover of Bollywood and I felt (and still feel) proud to be a patron of this fascinating film industry. Though I also hold affection for the yesteryear actors like Dilip Kumar, Raj Kapoor, Dev Anand and Amitabh Bachchan, I still consider Shah Rukh Khan to be the man responsible for my attraction to Bollywood."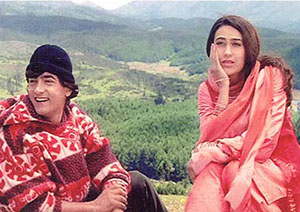 For Bodrul it was Shah Rukh Khan, Samreen aka Sammy had Karishma Kapoor. "A complete Karisma Kapoor fan at the age of 4, I made sure I'm taken to the nearest theatre as soon as possible to watch Raja Hindustani, which was my first film in a cinema hall. I was too young to really understand the story, but I could still distinguish between the 'happy' and 'sad' parts and of course, the lovely songs! My favourite scene of the film is when Raja and Aarti (Aamir and Karisma) realize their love for each other at the end of the song Pardesi Pardesi. My favourite song of the film is Pucho Zara Pucho as it was one number that I would dance to whenever I heard it. Karisma's untouched beauty and expressive eyes were unmatchable, while I fell in love with Aamir's innocent layman character. This is one film that I remember very well not only because it was my first, but because a lot of aspects of this film (including Karisma's red dress from the market of Palankhet) are still a part of my Hindi Cinema :)"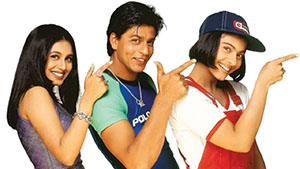 But love isn't love without learning from it. and Neelofar has proof. "From a young age, I had always been fascinated by the colourful, fun, filmy duniya that is Bollywood. And who wouldn't be, right? From dancing to 'Rangeela Re' and 'Gore Gore Mukhde Pe', I was a young girl who couldn't get enough of this wonderful, cheesy, Technicolor world (and still can't!) So when I first saw Anjali (Kajol) in Kuch Kuch Hota Hai, at 5 years old, I was mesmerised – I'd never before seen the heroine of the film be as sporty and tomboyish as she was (up until then, all I'd seen heroine's doing were dancing on hilltops with their dupattas!) The fact that there was not just 1 but 2 Anjali's in the film only added to my curiosity – what is this film actually about? And why did the mother of the little Anjali help her to make Rahul and Anjali fall in love? Growing up and watching the film again, I realised that there was indeed more to this film than just 2 Anjali's and a Rahul – it was about friendship, family,  the loss of a mother, a single parent family and of course; love and the sorrows and joys it bring. But the thing I loved most about Kuch Kuch Hota Hai was that both mother and daughter – Tina and Anjali came together for Anjali and Rahul to be together.  This film, to me symbolises the way that even  through hardships, that love will always conquer – call me filmy – but that's what I am!"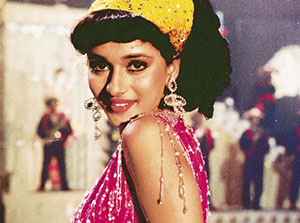 "My first Bollywood memory was more so a song rather than an actual film. I must have been about 5 years old when I saw Madhuri Dixit dance to the song 'Ek Do Teen' in the film Tezzab. The catchy lyrics and of course Madhuri's colourful outfit caught my eye and made me take notice. From that day on my love affair with Bollywood movies began. Thinking about it nothing beats the late 80's when it comes to Bollywood movies, they just don't make them like they used to." – A twinge of nostalgia as Meera unravels her turning point.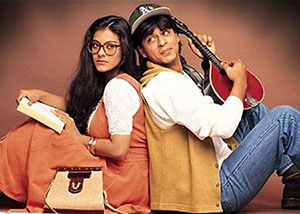 However, there are those who have their entire life changed, as Stacey recaps her journey. "Looking for Bollywood movies on Netflix, I came across Dilwale Dulhania Le Jayenge and decided to watch it, because it said it was the longest running film in Hindi cinema. I did not know Shah Rukh Khan, I did not know Kajol or even Yash Raj films but I thought lets try it; maybe I will like it. Understatement of the century!
I remember at some point in the first half of the film, I called my husband and said I have found the perfect movie. Then the scene in the station, when SRK gives her that look before he leaves and it is all said with his eyes… I was done! This movie is magic and will always be one of my favorite movies of all time. Not only for the film itself but because it literally changed my life. Without seeing DDLJ, I would have fallen into the world of Bollywood, experienced all the amazing films, music and more and would not be writing this right now. The music, the dance, the romance, DDLJ has everything! The say Come Fall In Love on the DVD of DDLJ and I do every time!"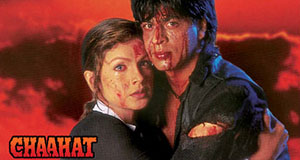 On personal note, the impact went beyond a career change, and a new love. For me, Hindi cinema became the starting point for a new language to learn, a new passion, a means to express a skill, a path to find new friends and  a benchmark for my personal standards. How does one movie do this? Well, it was over time but the one that started it was Chaahat. Love, romance, action, revenge, comedy… Nothing is left out from it, well according to me. I had seen Pooja Bhatt first in her debut Tamil film Kalloori Vaasal and Ramya Krishnan from several Tamil films so Shah Rukh Khan didn't mean much yet but boy, did that turn around quick. Not to mention changing Daddy Cool to Mummy Cool being the mummy's girl I was (still am I think). I didn't understand much more than what mum translated but goddamnit, I was determined to watch it till the cows come home. The VHS copy I had travelled with me wherever possible and by the time I was finished with, I don't there was much of it left. Singing, dancing, romancing a teddy, bucket loads of crying. It all happened in the confines of my bedroom. Till my mum forced me to move on.
In the end, its 100 years of Indian Cinema and this is but a drop of water in the ocean to one segment. There are so many other successful films in other Indian languages. But these are our first moments with Hindi cinema. Not a recommendation or even a review. This is pure unadulterated  fanism for Hindi films. So while you warm up Bombay Talkies or any other Hindi film, we too will be there. Waiting for the charm to take over. From us to you, Bollywood. Happy Birthday.