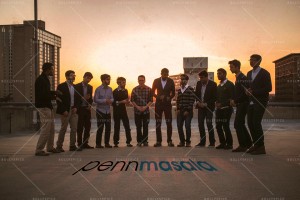 Penn Masala, University of Pennsylvania's South Asian a cappella group, recently released a track and video titled Evolution of Bollywood Music. As the title suggests, the group took a musical walk down the decades of Bollywood and brought us their spin and a capella snippets of some of the best of Hindi film music. An outstanding amalgamation of songs starting from the 40s until today the compilation became a huge hit and the video went viral with over 1 million hits on YouTube. We will have more on that later because we have an in-depth interview with one of the members of the group, but here is a bit of a sneak peak with some cool news! The popularity and the epic brilliance of the track brought the group an offer for a performance at the Tata Motor IIFA Awards. Talking to us exclusively, one of the singers of the fabulous group, Varshil Patel gave us the scoop about their IIFA performance.
So you are going to be performing at IIFA on Saturday April 26th, how exciting is that?
Yes, yes we are! This is just another source of happiness for us! It is crazy! We were approached a few weeks ago. It kind of went back and forth, but then it got finalized. We are very excited.
We are actually performing 'Evolution of Bollywood' live! Which is of course challenging. We know how to do it, of course, but doing it live, in front of mics, in front of tons of people, is a little bit nerve racking. And if anything goes wrong like technically, because you know it is a very delicate song and everything has to sort of fit perfectly: a missed note or a missed transition and everything will sort of fall apart. We have been working really hard and making sure we really have it down!
This is like a dream! Hopefully we will meet some of our favorite Bollywood people (laughs)! Have a great time performing on stage. I think being able just to walk on that Green Carpet and be a part of Bollywood for one Saturday is going to be, for all us, a lifetime experience."
This was just a teaser, stay tuned as we have so much more coming up about Penn Masala and the Evolution of Bollywood in our cool interview!